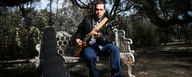 Albert Castiglia
Nominated for two Blues Music Awards
Albert Castiglia is an American blues singer, songwriter, and guitarist, and he's worked alongside artists including Junior Wells, Sandra Hall, Aron Burton, Pinetop Perkins, Melvin Taylor, Sugar Blue, Ronnie Earl, John Primer, Jerry Portnoy, Larry McCray, Eddy Clearwater, and Otis Clay.
AllMusic noted that "Castiglia combines hardcore blues with soul, rock, and country flavors for a sound that will appeal to rockers and blues purists alike." His vocal style has been compared to that of Van Morrison.
Last year, Albert Castiglia released his new album Big Dog, which charted in the top ten for most of the summer and was praised by the press as excellent, since it "brings life to older blues traditions and musical forms with contemporary, energetic musical artistry."
[LEWITT] What can you tell us about your new album, BIG Dog?
It's probably the best album I've ever done. I recorded it at Dockside Studios in Louisiana. It's actually not new, but it's my most recent record. Mike Zito produced it, and he dialed in my guitar sound perfectly and pushed me vocally to heights I wouldn't have thought were possible. I also had some great players like Johnny Sansone working with me on the record. It was just a tremendous project, and that came out in the recording – which is why it's been nominated for a Blues Music Award.
[LEWITT] How many awards are you up for at the moment?
I've been nominated for two Blues Music Awards this year. One's in the category Rock Blues Album of the year – and Walter Trout is nominated in that category as well, so I'm really honored by that one. The other one is Contemporary Blues Artist of the year, and Kenny Neal is also in the running. It's great … the awards are on May 11th, and I'm very excited. Being nominated is truly an honor!
[LEWITT] How have you managed to grow your career so well?
It takes a lot of work, perseverance, thick skin, and luck … and I'm still working hard. But that's the name of the game – there's no easy formula to it.
[LEWITT] With that being said, you do tour a lot...
I've probably played 150 gigs a year since I started doing this full time. You know, from 1988 till 1997 I was a social worker, and I'd play in bars on the side. But since then, I've been touring nonstop. And with the new album doing so well plus my new agency, that will probably increase.
[LEWITT] Can you tell us a little bit about the gear you're using live?
I'm currently using a couple of amps. I'm using an Ohlinger amp as well as a Sterling amp, since they're really good for recreating those tweedy, '50s-type amp sounds. When it comes to effects, I've become more of an minimalist. Right now I'm using a JHS Kilt, which is an overdrive/distortion pedal. I'm also using a vibe pedal by Granville guitar pedals called the Pink Bunkadoo. Otherwise, I have a G Lab Wowee-Wah that I'm using, and those are pretty much it.
For my vocals, I use the LEWITT MTP 550 DM, which is a great microphone with a clarity to it that I haven't really experienced in other microphones – and that's been lacking in the SM 58 I've used in the past. It sounds really clear, natural and transparent, and you don't have to EQ much when you use it. I mean, I'm not very good at describing equipment, but I know what sounds good … and this mic sounds very crisp and transparent.
Watch Albert Castiglia performing Drowning At The Bottom live at Don Odells Legends Series:
---
Related products
MTP 550 DM
Tailored vocal sound
Highly feedback proof
Durable materials for longevity
Cardioid polar pattern
---
More stories