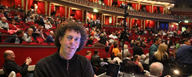 Howard Heckers about LEWITT
Sound engineer of Roger Hodgson
Howard Heckers is the sound engineer on tour with Roger Hodgson – the legendary co-founder of Supertramp and singer-songwriter of the classic hits "Dreamer", "Breakfast in America", "Give a Little Bit", and "Logical Song". Over the course of his career, Howard has worked with legendary artists like Randy Newman, Ray Charles, Liza Minnelli, Christopher Cross, Art Garfunkel and many more.
Howard told us this about using the LEWITT MTP 840 DM on tour:
"Roger Hodgson has 3 positions onstage where he uses the same type of microphone, the MTP 840 DM. He's never sounded better than during the last 3 years using these LEWITT mics, and all the other microphones on the stage are now also LEWITTs. Being a drummer myself, I love their mics on the drum kit – they're the right match for my drum sound. When I first set up the new microphones and did a quick mix on the drums, it blew everyone away.
Touring with Roger Hodgson, I could have chosen whatever microphone I wanted. However, we've stuck with LEWITT ever since we've discovered them. Roger Hodgson couldn't perform without the MTP 840 DM."
---
Related products
MTP 840 DM
Active mode to boost sensitivity
Tailored vocal sound
Low-cut settings
Supercardioid pattern
---
More stories