Thomas Claxton
"For live performance, the MTP 940 CM is ULTIMATE!"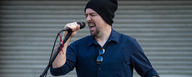 As the man named 2014, 2015, and now 2016 Best Male Vocalist by Los Angeles-based rock publication Rockwell UnScene Magazine as part of their travels around the country, Thomas Claxton of Savannah, Georgia is a musician who's not to be missed.
With over a decade of professional experience under his belt, Thomas performs over 300 shows a year from New York City, Los Angeles, and Boston to Nashville, Atlanta, Savannah, and Orlando. Singing is always his passion: he does it both solo and with his band, Thomas Claxton and The Myth, and he's also toured with a number of well-known performers such as Chuck Negron (lead vocalist for Three Dog Night) as well as performed live on stage with highly skilled artists such as Nicko McBrain (drummer for Iron Maiden) and others. Thomas has recorded professionally with the likes of Mario Cipollina (original bassist for Huey Lewis and The News) and "Kidd Funkadelic" Michael Hampton (Rock and Roll Hall of Fame inductee and guitarist for George Clinton's Parliament-Funkadelic). Not only has Thomas performed live on stage and recorded professionally with a number of amazing artists, but he's also opened for notable performers such as Funk-Rock pioneers Mother's Finest, Jasin Todd (guitarist for Shinedown and Fuel), Drivin' N Cryin', Mili Matijevic (lead vocals for Steelheart and the Rock Star movie soundtrack), and Stephen Pearcy (lead vocals for RATT). Thomas Claxton brings something to the table for fans of lots of different rock'n'roll styles, performing both his own songs as well as a repertoire of over 1,700 covers ranging from favorites like Pink Floyd and Tom Petty to out-of-the-ordinary choices like Queen, Alice Cooper, and RUSH.
With a new album coming out very soon featuring world-class performers from around the globe, Thomas is looking forward to the future and to continuing his adventures in music.
Thomas puts the LCT 940 to extensive use in the studio, and he uses the MTP 940 CM live at over 300 performances a year. He recently sent us feedback:
"For live performance, the MTP 940 CM is ULTIMATE. I've never found another mic that fit my needs as a professional vocalist better. The 3 polar pattern option cements the MTP 940 CM an amazingly versatile mic, ideal for both live and studio work under any type of conditions.
And I used the LCT 940 to record my most recent album. Best decision I could have made. The warmth and clarity this mic offers through it's ability to switch from TUBE to FET is second to none. Amazing quality and a game-changer for my sessions."
Links
---
Related content