Dan Richards
"With the LCT 940 you can find the right sound for each situation."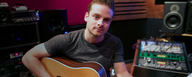 Dan Richards is a guitarist and composer with over decade of experience working in the music industry. He's been on 4 world tours with UK boy band One Direction, playing stadiums and arenas across the globe as well as appearing in three movies.
Dan also has a notable television career, with appearances all across Europe and America in shows and broadcasts including Saturday Night Live, The Royal Variety Performance, The Today Show, and the American Music Awards, to name just a few examples. Dan has also performed alongside legendary Rolling Stones guitarist Ronnie Wood in the live final round of The X-Factor.
When not touring, Dan frequently writes his own music – and he's also started playing guitar in a new electronic pop project called Tux Bolo. Tux Bolo is a three-piece dance-pop group made up of Dan Richards, Lance Conrad, and Doug Louiselle, and their debut single, Shame on Me featuring Ashley Dubose, has already been released.
We were lucky enough to talk with Dan about his recording chain:
"With a lot of the songwriting stuff that I'm doing right now, the setups are quite simple. I use a MacBook attached to a Universal Audio Apollo, into which I plug my LEWITT microphone. I absolutely love my LEWITT mics. The LCT 940, in particular, is a great piece of equipment: its ability to blend between the tube and FET settings creates a whole range of tonal possibilities, it's like 10 microphones in one! If I'm recording someone else, I usually play around with the dial-ins 'til I find a sweet spot. A lot of the stuff I record is actually me doing the top-line stuff, and I like it to set it fully to tube because I'm so fond of that warm sound! But a friend I recorded recently sounded better with a 50% tube and 50% FET split. So the great thing about the LCT 940 is that you can find the right sound for each situation, and that's why it's my main microphone."
---
Related content