Blog
True love for great sound unites us.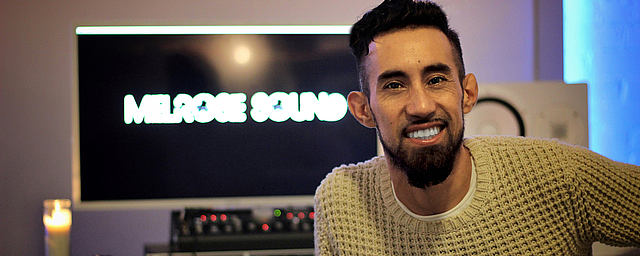 About Juan Pablo Negrete
Juan Pablo Negrete alias J.P. is the founder of Melrose Sound Studios in LA. He previously worked as head engineer at Atlantic Records and Warner Music Group.
Persistence and dedication led to two Grammy nominations for his vocal production work for Flo Rida. J.P. Negrete has also worked with artists including Skrillex, Nelly, Jason Derulo, Cody Simpson, Pitbull, B.o.B, Kelly Rowland, David Guetta, Tyrese, and many more.
Interview
[LEWITT] You went to Atlantic Records and ended up becoming head engineer there; now you have your own facility. How did that came about?
[JP Negrete] Well, it was really a matter of deciding to stick with the music business and just be dedicated. And I've been kind of a go-to guy – always being the one person in the room who could offer help to somebody. I knew what I was doing, and I made everyone feel comfortable. Actually, I can say that I built a career for myself based on making everyone around me feel comfortable. Whether you know the answer or not, there's always a way you can approach somebody in a helpful manner. And I think that's really been a key factor in how I managed to get to where I am as quickly as I did – and to open the studio.
Learn more about J.P.'s vocal production techniques in this video.
[LEWITT] Why did you end up choosing LEWITT microphones for Melrose Sound Studios?
[J.P. Negrete] The recording industry definitely has a few grandfathered mics. I'd always been accustomed to those choices, and it took me a while to transition: it wasn't until I opened my new recording facility, when we actually had a need for other mics, that I really started replacing the U87 with the LEWITTs. To be honest, they started getting more requests than the U87. It took my ears a bit to adjust, and then I realized that – wait a minute – the LCT 840 sounds like a very warm-sounding U87 with a cleaner low end, and it really solved a lot of my EQing issues. So I haven't looked back, and I'm so happy that all of my rooms now have a LEWITT in them.
[LEWITT] What do you like about your LCT 840, in particular?
[J.P. Negrete] You know, I'm excited to talk with you about my LCT 840. Just because it's become such a standard and staple of our studio. It's funny to say, but people have been making comments on it – the word on the street is that we have a great vocal chain, and I know that the LCT 840 is a huge part of that!
For me, specifically, I love the warm sound of the LCT 840 and how representative it is of the industry standard while having a cleaner low end than the U87. So naturally, it fits in as my workhorse for the studio. The LCT 840 is a mic I can trust on just about any vocal, 'cause I know that it's just going to work. I really love that about this mic.
[LEWITT] Tell us about the artists you've recorded with the LCT 840…
[J.P. Negrete] Currently, I'm proud to say that Kelly Rowland has really taken a liking to that microphone. Her current project is being recorded on a U47, but we have the LCT 840 right next to it as an option that gives her a cleaner pop sound as opposed to more of a contemporary R&B vocal that we'd switch to the U47 for.
But obviously, both serve us great – I just really love the brightness that the LCT 840 carries in contrast to the '47.
[LEWITT] You also have the LCT 540 in your studio. When do you use that particular microphone?
[J.P. Negrete] I'd say that I use the LCT 540 for rap or generally for a male vocal that needs to cut through a little more. Because the LCT 840 has a lot of warmth and body, and in comparison, the LCT 540 brings out a little bit more presence for when maybe a rapper or an R&B vocalist who has a little more body in their vocals can benefit from the presence of that mic – so it's a favorite for that type of material.
[LEWITT] You recently acquired a MTP 550 DM. What are you using that mic for, in the studio, and how does it compare to the SM57 that might normally get used?
[J.P. Negrete] I am really having a lot of fun with the MTP 550 DM handheld mic because I was used to a SM57 which, in comparison, now feels like putting a piece of paper between the vocalist and the microphone, because the MTP 550 DM is a very, very present mic. And it has really good noise cancellation. I don't know if that's one of the intended features of the mic, but I've noticed it when we conduct writing sessions and have the microphone right in the room with the producer blasting the speaker, or when we're just having a fun time with the sound of the tracks from those vocals. So it's very much a standard in our studios, and I'm really happy with it!
[LEWITT] Are there any final comments you'd like to make?
[J.P. Negrete] I'm excited that LEWITT has attained such a good standard, and I tend to recommend these microphones across the board
---