Blog
True love for great sound unites us.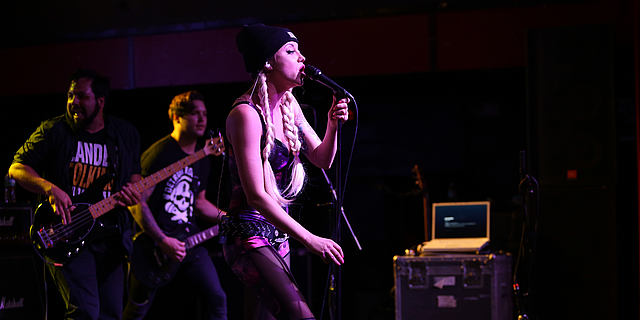 Kaleido – comprised of Christina Chriss (vocals), Joey Fava (drums), Ronnie Rosolino (rhythm guitar), Cody Morales (bass), and Zach Bolling (lead guitar) – is a fresh, modern-day Detroit incarnation of rock 'n' roll. Their upcoming debut full-length album EXPERIENCE, scheduled for release on 19 May 2017, is straight, unadulterated, feel-it-in-your-soul rock with flourishes of pop, R&B, punk, and funk undertones … and hooks that last for days.
Named "Best Band in Detroit" by Real Detroit Weekly in both 2013 and 2014, and having won two Detroit Music Awards in 2015 ("Outstanding Rock/Pop Group" and "Outstanding Rock Recording" for their second independent EP Unbreakable), they've since taken their show on the road, lighting up stages on the Vans Warped Tour and at Rockstar Uproar Festival, Summerfest, and the CMJ Music Marathon, and they've opened for Aerosmith, Slash, Kid Rock, The Offspring, Evanescence, Halestorm, Ace Frehley of Kiss, Twenty One Pilots, Pop Evil, Alien Ant Farm, and countless others. Right now, the band is getting ready for a national tour with Seether that begins on 2 May.
Kaleido frontwoman Christina Chriss checked in with LEWITT and talked about their upcoming new album, touring the States, and the role LEWITT microphones continue to play.
[LEWITT] You've just recently recorded your new album, so could you tell us a bit about how LEWITT microphones were involved?
[Christina Chriss] I love LEWITT, and I use a couple of different mics by them. In the studio, I've been using the LCT 940. It's got a clarity to it that's just beautiful, and it also has such a really warm and fat sound. It really picks up all the personality and quirkiness in my vocals, and it also makes them sound super-crisp – I love that about the mic! Actually, one of the things that we love most about the LCT 940 is that you're able to blend the solid state FET-side with the tube-side and dial in the tone yourself. Our guitar player Ronnie does most of the recordings of my vocals, and he blends a little bit more towards the tube side … so yeah, one of the coolest things about the mic is that you can play with your sound like that.
[LEWITT] Can you tell us something about the studio where you recorded the new album?
[Christina Chriss] We recorded our new album EXPERIENCE at a studio in Plymouth, Michigan called The Pipeyard with Josh Dillan, and he uses a lot of LEWITT mics in his studio. We hadn't noticed that when we first went in there, but then I started talking about LEWITT with him one day, and he told me that we'd actually been using lots of different LEWITT mics during the whole recording process. I thought it was really funny and cool to find out about that after the fact.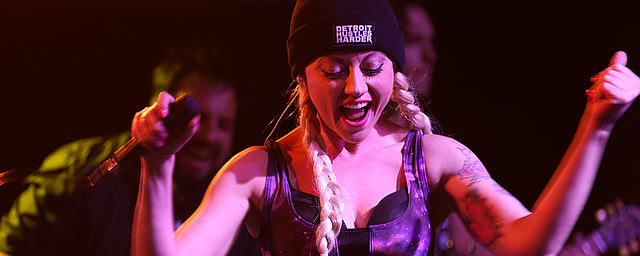 [LEWITT] Alongside using LEWITT mics in the studio, you're also using a few LEWITTs live. What can you tell us about that?
[Christina Chriss] For live shows I use the MTP 550 DM, and it's awesome! I've had a lot of problems in the past using other microphones live, because my band is super-loud on stage. I get a lot of bleed from the cymbals, the snare, and the guitar that messes up my vocals, and I've had a lot of sound engineers complain about that. But the MTP 550 DM is so directional that I don't have that problem anymore: it just picks up my vocals, so now I'm able to be louder than the band.
Our guitarist Ronny also uses the MTP 550 DM, and he sings all our harmonies live. Joe uses the MTP 440 DM on his bottom snare when we perform live, and he's told me he likes how that mic is very resilient – and he loves how it picks up the crack of his snare.
[LEWITT] So when you guys are on tour, a lot of times you're with different front of house engineers. Have they commented on the microphones?
[Christina Chriss] A while ago, we toured without our own sound engineer, so we kind of just started from scratch every night when we met the house sound guy at those venues. Like I told you earlier, I had a lot of trouble with bleed, and they'd complain and then crank my vocals, and that caused distortion – plus, you'd hear all the instruments cutting in. But since I started using the MTP 550 DM, they haven't had to work so hard to crank the vocals out: because it's so directional, it picks up only my vocals. And I've had lots of comments from fans, too, at the merch booth afterwards, that they could hear me really well; in the past, I'd had some complaints from people to the tune of: "You guys sounded really great, but I just couldn't hear you that good." So the MTP 550 DM has really relieved that problem, and it's really helped us out and helped me out with getting my vocals to carry over the band.
[LEWITT] And how are things looking for your upcoming tour?
[Christina Chriss] We're releasing our new album EXPERIENCE on 19 May 2017, and we're really excited; we worked on it for so long, and now we've got a really awesome tour to go along with the release of the album. We're also going on tour nationally with Seether, and we're really excited about that tour as well. We hope it will make us known to lots of new people, and with the new album in hand, I think it's going to be really fantastic for Kaleido.
Links
---