Rick Camp
"LEWITT has a great new-era sound!"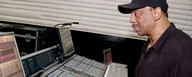 Rick Camp is a successful front of house and recording engineer known in the music industry for his work with artists such as Madonna, Earth, Wind & Fire, Beyoncé, The Temptations, Dr. Dre, Toni Braxton, Natalie Cole, Destiny's Child, Chris Brown, and many more.
As a front of house engineer, Rick has spent the past few years touring with J-Lo. But when he's not on the road, he's busy teaching the art of live engineering to others in his Master Mix Live program in Las Vegas.
We recently caught up with Rick in Las Vegas, where he shared some insight into his extensive audio background and his experiences with LEWITT microphones.
[LEWITT] Could you tell us something about your audio background?
[Rick Camp] I've been a front of house engineer and studio engineer for 35 years. On the live side, I've mixed everyone from Earth, Wind & Fire back in the '90s, to Beyoncé and Destiny's child in the 2000s, as well as Burt Bacharach – I do a lot of symphonic stuff, in fact. More recently, I've spent the past three years touring with Jennifer Lopez, and before that I toured with Chris Brown, Mary J Blige, Kelly Clarkson, and Madonna.
I started out as trumpet player, playing trumpet for about 12 years – and then I ended up going to Berklee College of Music in 1980. That was when everything kind of changed, because all the horn bands went away and keyboard-horns came on – so I really got serious about audio: I stopped playing trumpet, and I've been mixing ever since.
[LEWITT] How did you get your first gig as front of house engineer?
[Rick Camp] I don't know how I got my first gig as front of house engineer, but the first band I could call my own was a little R&B group, called The Whispers, who had a hit record called Rock Steady. And here's how that happened: I was mixing a local band in Cincinnati that was opening for The Whispers, and the front of house engineer – who was also their production manager – heard me mix, and we became friends. A year later, I was talking to him, and he said that he might have a gig for me. What I didn't know was that he wasn't gonna make the gig; he already had somebody else lined up to do it, but they didn't show up. The Whispers were a West Coast group doing an East Coast show, and I still lived in Cincinnati – which meant that I was able to get on a plane and be there in 2 hours versus them flying somebody in from the West Coast. So I did the gig, and 12 years later, I was still mixing for the Whispers … and that kind of merged into Earth, Wind & Fire and all the other groups.
[LEWITT] As a front of house engineer, what advice would you give people who are just starting out?
[Rick Camp] I would say that if you're coming from a non-musical background and you're strictly technical, then you really need to get to know what the instruments sound like. That's my advice for most sound engineers out there! I played music for such a long time that I just know what a kick drum sounds like, I know what a violin sounds like, and I know what a guitar is supposed to sound like versus people just mixing by the book.
[LEWITT] You've founded a new audio engineering school called Master Mix Live; can you tell us more about what it is?
[Rick Camp] I've been running Master Mix Live in Las Vegas, Nevada for the last four years. It all came about because I was always teaching people anyway, showing them how to work different pieces of gear. Since I'm about ready to slow down on the touring a little bit, and since I really do like teaching people, it made sense to start some kind of school – and I do also teach recording, but my emphasis is on live audio.
Master Mix Live is a five-month program. It starts in March and requires three days a week for four or five hours a day, depending on what we're doing in class on any given day.
[LEWITT] What's your facility like? Is it classroom-style, or do you have a stage?
[Rick Camp] It's like a mini sound stage for the live setup, and then there's a control room setup for the studio part. I have speaker systems that we actually used for mixing at some of the live shows that I've recorded, like the one with Jennifer Lopez, or Beyoncé, or whoever I've been out with. And the students actually get a chance to work with the live multitrack parts from these acts.
[LEWITT] Can you go over the equipment you're using at Master Mix Live and why you've chosen the pieces of gear you have?
[Rick Camp] You have to learn on the gear that gets used! I have SSL consoles, Avid consoles, Midas consoles, and I've actually written some presets for Midas for some of their mid-level models like the M32. I have speakers by ESP and Tectonic, and I'm using Lab.gruppen or Powersoft amplifiers. My wireless mics are from Sony, but on the wired side, I'm a gigantic LEWITT fan. I would love to use them on live vocals if they had a wireless system. The DTP 640 REX is my kick drum mic of choice. I used to be a Shure fan, but over the past five or six years, as LEWITT's come on the scene, I've switched.
[LEWITT] What do you like about the DTP 640 REX?
[Rick Camp] The time-alignment – it's dynamic and condenser mic in one housing and it's perfectly time-aligned: it sounds fat. The low end is really solid without having to add EQ. And the high end is really snappy.
[LEWITT] What microphones are you using for the rest of your drum kit?
[Rick Camp] I'm using LEWITT all over the drum kit. On the snare I'm using the MTP 440 DM, which I love – I guess it's the Shure SM57 killer! I'm also using the LCT 340 pencil condenser mics, and for my overheads, I'm using LCT 550 large-diaphragm condenser mics: they have a beautiful, silky smooth sound – not harsh like some condensers can be.
[LEWITT] How would you describe the sound of LEWITT mics in general?
[Rick Camp] LEWITT has a great new-era sound that's brilliant, warm, and captivating. The drum mics are clean, clear, and punchy. It's everything I think a great drum sound should be.
---
Related content