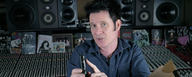 LCT 040 MATCH & LCT 140 AIR
Review & giveaway by Produce Like A Pro
Our friend Warren Huart from Produce Like A Pro did a marvelous review with the new LCT 040 MATCH & LCT 140 AIR and is giving away one of each mic. Enter the giveaway here
Warren used the LCT 140 AIR to record David from The Workday Release on acoustic guitar and concludes:
"It sounds freaking awesome! In Air Mode, the high end does sound very detailed and you get a sparkling sound.
In Flat Mode, it sounds very middle ranged without the bump in the high end.
It actually sounds like my old Neuman Gefell MV 691 from the 70s, that somebody broke a while ago. It had a really hyped high-end and I didn't have to EQ it in the track. That's what the LCT 140 AIR sounds like. Stupendous! 149 dollars to get a world-class acoustic guitar sound – nice work LEWITT!"
After this revealment on acoustic guitar, Warren used the LCT 040 MATCH stereo pair on drum overheads and his enthusiasm continues: "They sound fantastic!"
Last but not least Warren and David tested the LCT 040 MATCH stereo pair on a piano in an A/B and later in an XY stereo setup and is thrilled: "It's insane! Even my really crappy piano starts sounding good. David and I are completely blown away!"
---
Related products
LCT 040 MATCH
Well-balanced sound with pleasant high-end
Perfectly matched stereo pair
Made for acoustic guitar and drum recordings
Durable and light aluminum housing
Cardioid polar pattern
LCT 040 MATCH
Well-balanced sound with pleasant high-end
Made for acoustic guitar and drum recordings
Durable and light aluminum housing
Cardioid polar pattern
LCT 140 AIR
Choose between two distinct sound characteristics

Great for acoustic guitar and drums

Excellent transient response 

Cardioid polar pattern
---
More stories