Oomph!
"LEWITT microphones sound forceful and authentic!"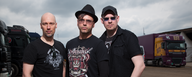 One of the most controversial, influential, and popular German goth-industrial bands. The band is considered the pioneers of the German Neue Deutsche Härte movement and rocking the stages since 23 years, releasing twelve albums including Gold and platinum awarded ones!
Oomph! consists of Dero (vocals, Drums), Crap (Guitar, Keyboards) and Flux (Guitar, Sampling) singing and touring mainly in german. Oomph! will perform a concert in Mexico on December 3rd, 2016. This will be the band's first show in North America.
Oomph! about their experiences with LEWITT microphones: 
"We say "OOMPH!" when we talk about things that have that certain something extra, things that are loaded with energy and sex appeal. For 23 years now, we've been trying to put these qualities into our music - and to capture or create them in the recording and the mix whenever we produce an album.
In doing so, we put a premium on forcefulness and power. Especially where vocals are concerned, we've always preferred an honest, unaltered and direct sound because that's the best way to get across the emotions of a song and its lyrics. So when recording vocals, my main aim is to capture the power and emotion of DERO's singing as precisely and clearly as possible - I don't want to lose anything in the recording process. Every detail and every bit of DERO's emotionality needs to be transferred 1:1 to the recording. The listener should feel like DERO is standing right there, singing just for him ... and it's precisely this kind of authenticity that we get from LEWITT microphones!
Just before we started work on our current album DES WAHNSINNS FETTE BEUTE, I received a LEWITT LCT 640 and tested it against the AKG C414, which we had used for the vocals on all our albums up to now. The LCT 640's clarity and direct response won us over immediately and made it our instant favorite for all the vocal and acoustic guitar material on this album.
When mixing the album afterwards, I never had to regret making that decision. I always had a very easy time allowing DERO's voice enough space and power within our often very dense walls of guitar sound and complex synthesizer arrangements - this took very little in the way of effort or EQ and FX tricks. And that speaks to the kind of quality that the LCT 640 brings to the table!
Ever since the European summer festivals of 2012, we've also been using a complete set of LEWITT microphones for our live work. OOMPH! puts a total of seven musicians onstage for live performances, and from the drum kit to the percussion, guitars, accordion and, of course, the vocals, we mic everything with Lewitt microphones. Our live technicians, who put the Lewitt mics through extensive tests beforehand, were elated by their performance. And on our latest European tour, the microphones did great and proved to be reliable partners. 
LEWITT microphones sound forceful and authentic, and they most definitely pack a great deal of "OOMPH!"
---
Related content