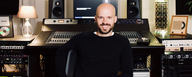 LCT 140 AIR & LCT 040 MATCH
Review by Zed Marty Production
Martin Zöscher tested the LCT 040 MATCH and the LCT 140 AIR on his YouTube channel Zed Marty Production and summarizes: 
"I had the chance to be one of the first reviewers of the LEWITT LCT 040 MATCH and 140 AIR. I tested both, the 040 MATCH in a stereo setup and the 140 AIR as a single mono microphone on the acoustic guitar.
Due to the surprisingly small form factor of the 040 MATCH, I was really blown away by the full and detail-rich sound. The stereo separation is really well balanced, especially when using them in an ORTF configuration. 
The high-frequency lift on the 140 AIR is a nice feature when recording darker and mellow sounding guitars, but of course, there's also the option to use it with a flat frequency response for capturing realistic and true sounding sources. 
I can really recommend those microphones to any audio engineer, as the price-quality ratio is unbeatable and you get excellent workhorse microphones for any source!"
---
Related products
LCT 040 MATCH
Well-balanced sound with pleasant high-end
Perfectly matched stereo pair
Made for acoustic guitar and drum recordings
Durable and light aluminum housing
Cardioid polar pattern
LCT 040 MATCH
Well-balanced sound with pleasant high-end
Made for acoustic guitar and drum recordings
Durable and light aluminum housing
Cardioid polar pattern
LCT 140 AIR
Choose between two distinct sound characteristics

Great for acoustic guitar and drums

Excellent transient response 

Cardioid polar pattern