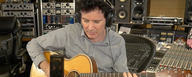 LCT 240 PRO Demo
by Produce Like A Pro
In his latest Produce Like A Pro episode, Warren Huart is recording everything from drums to guitar, to vocals, to bass with our extremely versatile cardioid condenser microphone  - the LCT 240 PRO. 
(Giveaway is over)
Warren Huart about his experiences with the mic: 
"I really like it [...] This is an absolutely fantastic all-around mic. We live in a wonderful time, where a 149$ will buy you a microphone, that can record live drums, bass guitar, electric and acoustic guitar and a vocal. The point is, there's no limitations anymore - it's all about your creativity!"
Links