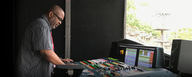 The LEWITT Tour Diary
FOH Sam Clayton & his adventures on tour
This is the tour diary of Sam Clayton, who always sents us feedback from his tour life adventures. 
Sam has been a sound engineer for more than 30 years and has worked with a lot of different artists and bands across many different musical genres. Next to J.P Bimeni and Eric Bibb, which Sam is touring this year, he has worked with musicians like Toots and the Maytals, Steel Pulse, Eric Gales, Brain Damage, Fatoumata Diawara, Orchestra Baobab, Horace Andy, Robert Finley, The Jolly Boys, Burning Spear, The Skatalites.
Over the years, Sam has been working in some of the best studios and live music venues and events around the world.
In this tour diary, Sam is sharing his experiences from ELBJAZZ Festival, Grolsch Blues Festival, Les Nuits de Fourvière festival,...
04.06.19 | ELBJAZZ Festival
As promised here are some pictures from the gig in Hamburg this weekend.  We played the ELBJAZZ festival on Saturday and played just before Tower Of Power who were headliners. I had never worked at this festival before and was surprised at the number of people that attended (30,000) and how well organized everything was. The quality of artists and bands was impressively high too and it seems the fans enjoyed the two-day festival a lot.
The city was absolutely buzzing with a lot of activities and over 100,000 visitors…unfortunately, this was a fly-in, fly-out date for us and I could not bring all the microphones I usually use and had to make the hard choice of what to bring. I brought 2x MTP 940 CM, 1x MTP 550 DM for vocals, 1x MTP 440 DM for guitar and 1x DTP 640 REX for kick drum.
As usual, there were several questions about the microphone setup and the local crew heard how well it performed and sounded, very clear in the monitors (which were a little loud) and without a hint of feedback. With only 45 minutes to setup and line check, it was very helpful that the mics made our setup 'easy', by halfway through the first song the mix was dialed in and sounded good.
I presented J.P. Bimeni with his brand new MTP 940 CM from LEWITT at the hotel, and to say he was excited would be an understatement…he was singing into it even when it was not plugged into anything. JP sends a million thanks to the LEWITT team: