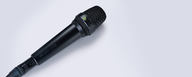 Review MTP 250 DM
Mixdown Magazine
Rob Gee of Mixdown Magazine wrote a revealing review of the MTP 250 DM, LEWITT's dynamic handheld microphone for ambitious performances.
Summary: "I like to see how a microphone is put together and with the LEWITT MTP 250 DM I am pleasantly surprised with the look and the feel both inside and out. As a stage microphone, you want something that will bring your vocals forward in the mix and make you stand right out. That is exactly what you get from the MTP 250 DM, as it is voiced just right for vocals.
With excellent side rejection, allowing your voice only to be captured, keeping feedback to a minimum, there is a very clear and precise high frequency responses with this microphone that one would usually only expect of a condenser microphone. Yes, you do need to almost swallow the microphone, as is usually the case with a unit like designed for stage use, but that allows you to work on loud stages and still maintain separation from other voices and instruments. All in all, this is a pretty tough little vocal microphone that delivers in both build and sound quality. Everything slid back into place nicely after I pulled it apart and it still felt firm and solid." 
Links
---
Related products
MTP 250 DM
Tailored vocal sound
Durable materials for longevity
Cardioid polar pattern
Switch version available
---
More stories