Gino Scarim
"There's nothing better than LEWITT!"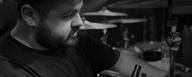 Gino Scarim is a sound engineer and tour manager who started recording bands out of Chicago in 1999 and currently still owns Red Door Recording Studio in Fox River Grove, Illinois. He got his feet wet with a few national tours with his bands (Slim Jim Conspiracy & AfterProject), and was then hired by the Clearwater Theater in nearby West Dundee, where he worked with national touring artists mixing either front-of-house or monitors, as well by the iconic Chicago venue Metro. In 2009, Craig Teide (Metro's talent buyer) was in need of crew for the Plain White T's for a US headline run and ended up giving Gino what would become his breakthrough gig in the professional touring world.
Gino currently still works for the Plain White T's as their monitor engineer. Other bands he's worked for include Tilly and the Wall, The Amity Affliction, Blessthefall, and Chelsea Grin, to name just a few.
Having by now surviving a few Warped Tours as well as several tours that have taken him around the world, Gino is looking forward to more great adventures in 2015 and beyond.
We asked Gino about his experiences with LEWITT microphones:
[LEWITT] Can you tell us a bit about your recent projects and how LEWITT was involved?
[Gino Scarim] I've used LEWITT with Crown the Empire and Born of Isiris (both on the Warped Tour), I'm currently touring with The Amity Affliction, and I also use them in the recording studio.
[LEWITT] Do you think there is a LEWITT sound?
[Gino Scarim] Yes – most of the compliments I get on my mixes are about their clarity and punchiness and I attribute that to LEWITT.
[LEWITT] How would you describe the sound of LEWITT mics?
[Gino Scarim] We've A/B'd LEWITT against other mics in the studio. The DTP 640 kick drum kicked all the other ones' butts. The LCT 340 is my favorite small diaphragm condenser; previously, I'd used an American brand that starts with "S", and there's no comparison. The LEWITT has no harshness at the high end, and it's really smooth between 5k and 8k. It's a truly clear sound. For amplified guitars, I've never heard a better sound than a MTP 440 dynamic and LCT 550 condenser combination. WOW – you gotta try it! And the MTP 840 DM is an amazing match for a screamer who cups the mic. There's no feedback, and it's still a great sound. It's just unbelievable.
[LEWITT] Why have you chosen LEWITT?
[Gino Scarim] They're simply the best new mics on the market. They're super-durable, and I like the way they sound. For the kind of music I do, there's nothing better than LEWITT. Everyone who tries them is blown away. The products are just amazing.
[LEWITT] What is your favorite LEWITT microphone?
[Gino Scarim] The DTP 640 REX is my favorite, though the LCT 550 and LCT 340 are pretty close behind. They all transition great from live use to the studio. And the MTP 840 DM can get really loud in the wedges without feeding back, even when the artist cups the mic. It's a great tool for an engineer.
Gino Scarim on the 2015 Warped Tour, talking about his experiences with LEWITT microphones:
Links
---
Related content