Blog
True love for great sound unites us. 
Now president of his own entertainment company, Mixtura Productions, Tony Succar knows his way around a number of job descriptions: bandleader, percussionist, musician, producer, composer, and arranger.
He got started with music at the very young age of four. With his mother a singer and his father a pianist, he played numerous gigs with his parents all the way through childhood, in the process becoming an extremely good drummer. Later on, he studied jazz performance at Florida State University's School of Music, from which he graduated with a master's degree.
Tony Succar eventually assembled a group of artists plus an exceptional production team to create The UNITY Project, a collaborative Latin tribute to Michael Jackson that interweaves elements of American pop, jazz, tropical, and world music upon the King of Pop's enduring musical foundation.
[LEWITT] How did you come up with the idea for the UNITY Project?
During my time at FSU, I formed a group called Mixtura Band. We played a lot of gigs at various clubs, and we still do that today. Mixtura gave me a chance to start using my abilities to arrange, produce, and orchestrate, and I learned how to compose music in Latin jazz and Latin fusion styles. Then, in October of 2009, I happened to get a call from an agent named Randy Singer. He was planning a Halloween party for a local club in Miami, Florida, and he wanted to me to perform Thriller that evening. I came up with the idea of doing a Latin jazz fusion version of the song that we could perform live. And when I saw how people went crazy over it, that inspired me to make an entire record as a tribute to Michael Jackson. I was able to work with great artists – Latin superstars like Tito Nieves, Jon Secada, La India, and Obie Bermúdez. We also got Michael Jackson's legendary engineer Bruce Swedien to come work on the album. The whole thing ended up being a five-year project, and we recorded with 100 musicians. After it was finished, Universal heard it, and they signed it. That was a real transition in my career.
[LEWITT] When was the first time you used LEWITT microphones?
It was when I had the opportunity to shoot a PBS special for the UNITY project. The special was part of the PBS Fall Arts Festival, hosted by Gloria Estefan, and we did a live performance with 37 musicians on stage. It was four days of production all told, and we multi-tracked it over 84 channels. That was the first time I experienced LEWITT microphones; we used them on strings and on a couple of the percussion instruments, and it was sort of like a test. We were all kind of skeptical at first, because it's a new brand and my engineer was like: this is a one-time opportunity, it's got to come out great or not at all. I told him: let's give it a try, they look great and they've been recommended highly to us. So we used the mics and did the sound check with them, and we really loved what we heard! The mics just sounded great and gave us an incredible transparency – the real instrument sound was coming out just really clear, which is what I'd always been trying to obtain.
[LEWITT] Tell us about your favorite LEWITT microphones….
One of my favorite mics that I'm using in the studio is the LCT 840. It's incredibly warm-sounding, and I really enjoy what it translates in terms of the vocal performance. I also use it on acoustic guitars, and I like its clarity, it's very transparent, and it cuts right through the mix! It sounds very full and is really well balanced. And the 5 switchable polar patterns are very helpful in finding a sweet spot.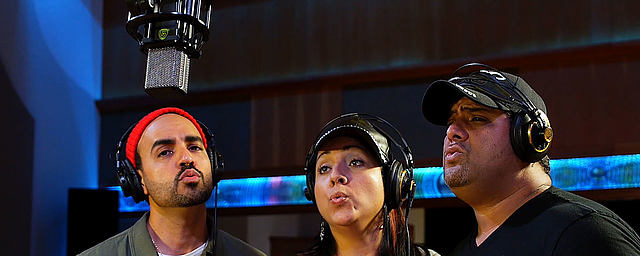 One of the coolest mics I've used is LEWITT's kick drum mic – the DTP 640 REX. What I really love about it is how incredibly versatile it is, with the dynamic mic and a condenser mic in one housing. The great thing about that is that your front of house engineer can tweak between how much of the lower end of the kick he wants and how much of the attack he wants without having any phasing issues. Another really cool thing about this mic for me personally is that I actually use it a lot on my cajon, which is the instrument I play the most. The thing about the cajon is that you have a lot of highs and lows at the same time, and the DTP 640 REX allows you to blend those two factors in order to capture a really good overall sound – whether in the studio or live.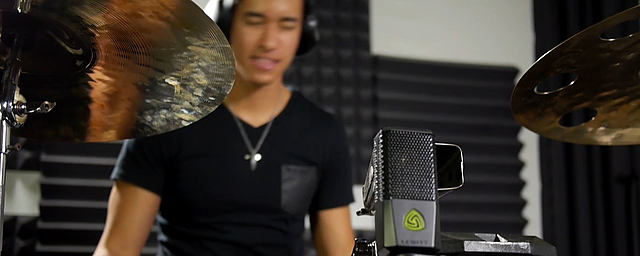 One of the other mics that I really like is the MTP 440 DM, which is LEWITT's answer to the Shure SM 57. What I love about it is that it's definitely very directional, and it also sounds less thin than the SM 57. The MTP 440 DM is also really rugged, and it feels like it'll last a really long time.
I've also been using the MTP 550 DM a lot – that's the dynamic vocal mic that you can see in most of my live videos with the Mixtura Band. It's probably the most impressive vocal mic I've ever used live: it's very directional, there's not much noise bleeding in from the other instruments, and it cuts through the mix – and as with the other LEWITT mics, the transparency is 100 percent right on.
[LEWITT] What are you working on right now?
I'm working on two new records – one is the follow-up to the UNITY Tribute to Michael Jackson, and it's all LEWITT on that one. I'm also recording a Latin jazz record, which is something I've always wanted to do. Otherwise, we're playing a lot of shows at the moment, and it's hard to balance everything.
[LEWITT] Do you have any tips for young musicians and producers?
Nowadays it's all about the content – so make sure that you're able to multi-track your shows and get that content out there, because that's what people like to see and hear, and that's how they keep up to date with all your stuff. We multi-track every show: no matter whether it's a small show or a giant one, it's got to be miced, and that's why mics and mic positioning are so important to me. I mean, content is king.
[LEWITT] Any final comments you'd like to make about LEWITT?
I can't wait to see what LEWITT will have to offer in the future. It's a new company, and they're doing a great job. They started off the right way, which is to go all-out on quality and not cut any corners. LEWITT's basically right up there with the AKGs and Shures of this world, and in my personal opinion, I definitely like the LEWITT mics a little bit better – sonically, and also because they just feel really good.
Links
---