Andy Vargas
"The sound you get is just amazing!"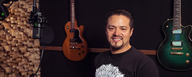 Andy Vargas started his music career at a very young age with the help of his father Javier Vargas who was both a singer and musician. Javier taught Andy the traditional old-world Latin music style and by the time Andy was 7 years old he was performing with his father's mariachi band. Along with mariachi music, Javier also exposed Andy to other genres cultivating his son's passion and talent for music. Vargas continued with his music career throughout his adolescence and by the time he was 17 he landed his first recording contract with R.C.A. Records. Before the release of his album Vargas auditioned to perform with Santana.
Andy's love of and commitment to the arts paved the way for his future. In 1999, music legend Lou Adler (his manager at the time) made Andy's aware of an audition, and by 2000, Andy was touring as a singer with Carlos Santana on his Supernatural World Tour. Today, Andy still tours and delivers vocals for the Santana Band while developing his new production company Vargas Entertainment.
We've met Andy recently and asked him about his experiences with LEWITT microphones:
"I love how my voice sounds through the LEWITT LCT 550. This mic is extremely quiet and has great sensitivity. With most recording mics, you have to be right in front of it. But because the LEWITT has so little self-noise, you can actually sing at a distance to pick up everything from your head to your chest voice. When listening back, you'll hear a humongous difference - the sound you're getting is just amazing. I love and recommend LEWITT!"
Links
---
Related content