The Blue Trees™
"When we hear the name LEWITT, "the ultimate microphone" is what comes to mind."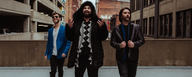 The Blue Trees™ are a Southern Groove Rock band based in Nashville, TN. The band was formed in 2015 by James Cody and Jacob Needham. Over the past few years, The Blue Trees™ have developed a signature style that blends Rock, Pop, Alternative, and Funk elements.
Their debut album Procrastinated Memoirs, was released in April 2018. Additionally, their new single "Sex Appeal" was released in May 2020 by their label Spectra Music Group.
"For our new single "Sex Appeal", I used both the LCT 840 and LCT 940 microphones for tracking all of the Lead and Background vocals. I also used these microphones for recording most of my Lead and Rhythm guitar parts as well. I was blown away at the warmth in my tone I was able to capture. Simply put.. I will continue to use Lewitt microphones for tracking vocals and guitar cabinets for many years to come." – James Cody
In the recording process of Procrastinated Memoirs, LEWITT microphones have been important tools: " In my opinion, there's no other mic out there that can be compared to their sound and the clearness and the crispness we get when we use these LEWITT mics for vocals. It's spectacular." says Jacob Needham and James Cody adds: "Basically what I noticed, especially with this new album where we have acoustic-type instrumentations in our songs, is that getting a good acoustic sound is not the easiest thing in the world. That's no secret. But I found that using the LCT 640 on my Martin guitar sounds incredible in conjunction with the line-in Fishman system. I used it mainly in cardioid mode and really didn't have to do much EQ-ing, because that mic captures everything natural about the guitar. It's just magic. I can't express enough how it's going to be hard to ever want to use any other mic but the LEWITT for doing acoustics, guitar specifically, so I'm very grateful for that."
Alabama Baby The Blue Trees™
---
Related content