Blog
True love for great sound unites us. 
LCT 240 PRO Review by Chris Milnes
Check out this guest review of the LCT 240 PRO by musician & music producer Chris Milnes.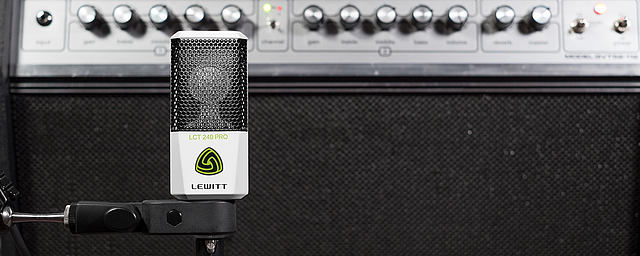 LEWITT are one of my favorite microphone manufacturers at the moment. They're based in Vienna, Austria, and their microphones have received rave reviews from all over the world. This is one of their latest offerings, the LEWITT LCT 240 PRO, which is a single polar pattern cardioid microphone. It's intended to be very versatile, and will do a great job on almost all sources.
The microphone will go on sale at $149/ £149, so it's a really budget microphone. It will suit bedroom producers perfectly, being an ideal utility microphone, as it works on almost any source. The LCT 240 PRO is capable of handling up to 142dB SPL, which means it can record incredibly high sound pressure levels without any problems, so you can really crank your tube amp, and not worry about it.
The microphone is available in black or white (though I much prefer the black!) and it comes packaged with a mic clip, a case and a windshield.
On a budget
For a budget microphone, I think it performs really well, and unlike some of its competitors in the same price range, it doesn't just work on vocals - it sounds great on almost everything I've tried.
Here's a little voice-over, bass, guitar and drum demo of the mic:
I feel the top end is a little hyped, and I wasn't a huge fan of its performance on female vocals when I tested it. As a drum overhead and a guitar cab mic though, it's absolutely brilliant. There's some great clarity, and it doesn't feel brittle. I'd be more than happy to use it in a professional context.
Overall, I think the LCT 240 PRO is well worth a purchase. I'm really impressed by how versatile it is considering its price tag. It's perhaps not as incredible as the other LEWITT mics I've tried, but considering the price, it's a brilliant little mic.
---
What it Does: The LCT 240 Pro is a single-pattern microphone with high-performance capsule for all applications.
The Bottom Line: Not a bad budget microphone at all. It doesn't quite compare to the more expensive LEWITT mics, but it's a very good all rounder.
Performance: A reasonably good performance all round, and it's a very versatile mic. I particularly liked it on drum overheads, and guitar cabs too, but I found vocals a little hyped at the top end.
Build Quality: I'm not a big fan of the look of the shiny white finish, but it's a well built mic, and doesn't feel like it's going to break. The mic clip is solid.
Ease of Use: It's an incredibly simple mic to set up and use. The cardioid shape is nice and wide, and it's not difficult to position. It fits in most gaps and weighs very little.
Gossip: The reviews across the internet seem very favorable, and it seems people really like the mic. I've seen a couple of other people commend it for drum recordings.
---
About the Author: Christopher Milnes is a Leeds based musician & music producer. He's received various awards and scholarships for his music production work, notably The David Thompson Scholarship, and the o2 Think Bigger award, as well as the conservatoire prize at Leeds College of Music. Chris's work has been broadcast on all major UK radio stations, as well as being played all over the world. He currently plays and writes in an Electronic Indie band called Loux, and works from a project studio in Leeds City Centre, UK.
---