Bootsy Collins
"My LEWITT LCT 940 Mic is very fat & warm!"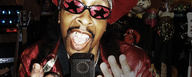 William "Bootsy" Collins is an influential P-Funk figure and a legend on the bass.
It was back in the early '70s that Bootsy had his career breakthrough together with James Brown. He toured all over the world with Brown's band, learning from him and being part of hits like Get Up, I Feel Like Being a Sex Machine and Soul Power. After eleven months spent working with Brown, he set out on his own and became an overnight funk icon. He founded Bootsy's Rubber Band and promptly placed his first two LPs in pop's Top 20. And while making records with the Rubber Band, he also performed live on his star-shaped Space Bass and wrote 40 years of music history. 
As a session musician, Bootsy has collaborated with artists such as Deee-Lite, Herbie Hancock, Cyndi Lauper, Keith Richards, Snoop Dogg, and Victor Wooten, among others. Considered one of funk's most influential bassists, Collins has influenced musicians such as the Red Hot Chili Peppers' Flea and Primus' Les Claypool. He is a member of the Rock and Roll Hall of Fame and won his lone GRAMMY for Best Short Form Music Video for Weapon Of Choice with Fatboy Slim in 2001. 
Today, he's more than just a successful musician who works with artists such as Snoop Doog and releases songs together with Samuel L. Jackson. He also works with his Bootsy Collins Foundation to help neglected children and teaches funk at his "Funk University."
Bootsy about his experiences with LEWITT microphones:
"In the market place there are certain standards that you must achieve to get noticed. In Funk I have noticed that you must go beyond the standards to make your own claim to fame. My point here is: When I hooked up my brand new MTP 550 DM Microphone it brought a whole new standard to my Bootsy voice live on Stage. So what the Funk? Need I say more? Get one if you want your funk Un-Cut!
I also love how my new Kick Drum DTP 640 REX has tight presence in the absence of silence, while keeping the low end round like a Big Butt Woman. Now my ratings: on a Funk Scale from 1 to 10, the Kick Drum Mic get's rated 12, and that is FUNKY!
My LEWITT LCT 940 Mic is very fat & warm like a heavy set woman lookin' for a piece of chocolate, uhh Star that is. She may not be your cup of T, but it sure sounds funky to me! Better go get your funk on. Bootsy baby!!!"
Links