Cagan Tunali 
"LEWITT mics provide the natural and warm sound that I'd spent years looking for."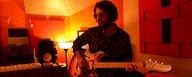 "I don't believe in 'Blue Mondays' – contrary to common practice, I look forward to Sunday being over so I can wake up to an exciting Monday and start a brand new week filled with music." With this standout attitude, Cagan Tunali has achieved – and continues to achieve – countless goals at an early age.
Cagan is a sound engineer who records and mixes albums as well as does FOH engineering for high-profile artists and start-up bands alike, both at local jazz clubs and at major festivals all around the world. But he's also the founder of Istanbul-based Noiseist Music Production Company. The Noisiest label, which he's been actively running since 2009, aims to create a sincere and independent environment for alternative musicians, letting them freely express their music and be heard both in the studio and around the world. 
Throughout his career, Cagan's Tunali has recorded/mixed thousands of albums and countless concerts while also producing and supporting various local indie bands. He also teaches at universities and other institutions while giving as many workshops as possible whenever he has time. In this way, he's been keeping the spirit of rock 'n' roll alive with a combination of great work and discipline for many years now, though he says this is only the beginning of his journey. 
Why LEWITT?
"I've been bewitched by LEWITT's quality and its innovative designs ever since I worked with their microphones for the first time. Thanks to their natural sound, I've been able to use LEWITT microphones smoothly in all genres and on all instruments. I can easily say that LEWITT mics provide the natural and warm sound that I'd spent years looking for – which definitely enlightens my artistic perspective and the work I do."
Links
---
Related content