Robin Finck
"LEWITT's CEO Roman Perschon is very passionate about what he's doing!"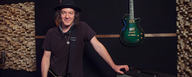 Robin Finck is an iconic American guitarist and one of a very few artists who've played in two different bands listed on VH1's 100 Greatest Artists of Hard Rock: Nine Inch Nails (ranked no. 43) and Guns N' Roses (ranked no. 9).
Robin joined Nine Inch Nails in 1994–95 as part of the touring band for its Self-Destruct and Further Down the Spiral tours following the departure of the previous guitarist, Richard Patrick. Robin performed with Nine Inch Nails at Woodstock '94, and he could celebrate his first official release with them, the Closure video, in 1997. Once the tour was completed, he took a job playing for the circus troupe Cirque du Soleil in the original tour of its Quidam show. Then, still in 1997, Finck signed a two-year contract with Guns N' Roses as the replacement for Slash and began working with the band on its album Chinese Democracy.
Finck rejoined Nine Inch Nails for the Fragility v1.0 and Fragility v2.0 tours in support of the 1999 album The Fragile. These tours were in turn recorded and released as the live album/DVD And All That Could Have Been, which marked Finck's second NIN release. Shortly after finishing these tours in 2000, he returned to Guns N' Roses, playing four shows with them in late 2001 followed by a brief tour of Europe and Asia in mid-2002 and a live appearance at the MTV Video Music Awards.
Robin was invited to rejoin NIN to tour in support of their 2005 album With Teeth but chose not to, so his position was filled by Aaron North. In the summer of 2006, he toured Europe with Guns N' Roses playing in front of over 700,000 people.
November 2008 saw the release of Guns N' Roses' long-awaited album Chinese Democracy. Finck has a co-writing credit on the song Better, which was later released as a single. He also played guitar on every track, performed 7 of the guitar solos, and has additional credits for keyboards, arrangements, and pre-production. After the album's release, he chose to play with NIN as a member of its live band. He subsequently contributed to the Nine Inch Nails album The Slip, earning a performance credit alongside then-band members Josh Freese and Alessandro Cortini.
Following the departure of NIN live band members Alessandro Cortini and Josh Freese at the end of 2008, Robin and bassist Justin Meldal-Johnson re-grouped with band leader Trent Reznor and the new drummer Ilan Rubin, and this 4-piece band completed an 8-date tour of Australia and New Zealand between February and March 2009. Finck continued to perform with the band throughout the 2009 Nine Inch Nails/Jane's Addiction tour and the subsequent Wave Goodbye tour through Europe and Asia. The band then returned to the US to play a series of shows, culminating in the final Nine Inch Nails live appearance prior to the project's multi-year hiatus. Trent Reznor later announced via his Twitter account and the nin.com home page that Finck would be rejoining Nine Inch Nails for its 2013–14 tours.
In 2015, Robin Finck released his first video game soundtrack together with the musician Wordclock (Pedro Pimentel) for Noct, a tense, monochromatic, top-down horror game.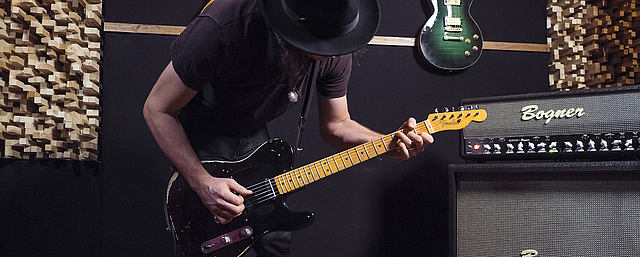 We invited Robin to our huge microphone shootout because he's an experienced guitar player with an unique style, and after the session, we had the chance to ask him what he thinks about this project of giving consumers the opportunity to hear his guitar licks through many, many microphones:
"It's a fantastic idea, all of those A/B comparisons; they speak louder than any kind of description. You get the opportunity to experience the sound for yourself.
But let me tell you why I'm here today: I met LEWITT's CEO Roman Perschon at a NIN concert in Austria. We chatted for quite a while, and I could feel how very passionate he is about what he's doing with these microphones. I'm behind him, because I like that! So you see, I have to tell you about Roman instead of just how any one mic sounds compared to another."
Links
---
Related content