Disciples of Babylon™
"I love the tone of my voice on the MTP 550 DM"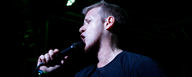 Disciples of Babylon™ (DOB) is an international rock band based in Hollywood, California. The group was founded in 2012 and includes Eric Knight on lead vocals and rhythm guitar, lead guitarist Ramon Blanco, bassist Gui Bodi, and Chris Toeller on drums.
In May of 2014, the band recorded their 3-song debut EP, entitled Welcome to Babylon. Andres Torres took care of production, while mastering was handled by Grammy-nominated mastering engineer Joe LaPorta, who's best known for his work with the Foo Fighters, Killers, Imagine Dragons, and Vampire Weekend at Sterling Sound in NYC. It was after working with several drummers and holding numerous auditions that the band introduced their newest member, Chris Toeller, to the fold. As seasoned musicians, the members of DOB have accumulated several national releases between them and opened for the world's biggest rock names including Aerosmith, KISS, The Dave Matthews Band, and Kid Rock.
Frontman Eric Knight uses the MTP 550 DM: "I love the tone of my voice on the MTP 550 DM microphone, and it enhances my vocal range. The front-of-house engineer told us that the LEWITT gave him more headroom to work with and also cut through better. It sounds very clear and clean, and when you AB it with other well-known mics, you can immediately tell that the LEWITT is better."
Check their latest single "Without You"
Links
---
Related content