Erik "Blu2th" Griggs
"LEWITT mics give me an unaltered sound!"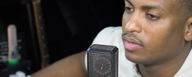 A lifelong musician, playing piano, guitar, bass, & drums, Erik "Blu2th" Griggs, is also composer & producer and a session multi-instrumentalist. You can hear his performances on the Dreamgirls soundtrack as well as songs from such artists as Omarion, Tyrese to K-Ci, Charlie Wilson, Jordin Sparks, Boyz II Men, and more. Blu2th has composed for Jordin Sparks, Chris Brown, Tim & Bob, Babyface, Boyz II Men, just to name a few.
Blu2th has worked diligently and earned a People's Choice award, BMI Song of the Year award, and a Grammy nomination. 
Blu2th about his experiences with the LCT 640:
"When it comes to microphones, the thing for me is: I don't want the mic to give me a sound, I want it to represent the sound that the artist is giving the mic. The great thing about the LEWITT mics is, that they give me an unaltered sound. It's just like what I give to the mic, is what I get.
The LCT 640 is a great mic, because it is very transparent! You get what you give it and I love that about the mic. It has a lot of body and smoothness. There is a $6000 mic (Sony 800G) that is the choice of many, but after using the LCT 640, that's my mic of choice. The LCT 640 has an incredibly wide transparent response so that nothing needs to added. The 200Hz- 40Hz is smoother on the LEWITT than that well-known $6000 mic. It's a great choice for vocals and acoustic guitar."
---
Related content