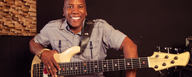 Nathan East
Interview with a bass legend
LEWITT had the chance to interview the legendary bass player Nathan East at the big microphone shootout, and we talked with him about his experiences there and about the qualities he enjoys in a microphone.
With over 2,000 recordings under his belt, Nathan is considered one of the most-recorded bass players in the history of music. And the very first touring band he worked with was no less than Barry White's Love Unlimited Orchestra.
Nathan, who is also a founding member of the chart-topping contemporary jazz group Fourplay, was just 16 years old when he got his first break and found himself on the road with Barry White. The next time his phone rang, Quincy Jones was on the line. The calls just kept on coming, and for the past forty years, Nathan has been churning out hit songs with artists as legendary as Eric Clapton, George Harrison, Michael Jackson, Phil Collins, Whitney Houston, Beyoncé, Barbra Streisand, and Stevie Wonder.
His genre-crossing groove has earned him both recognition – including by the U.S. Congress for his contributions to the worldwide music community – and the boundary-busting respect of his peers, which is exemplified by his current appearances on two hit records as different as Andrea Bocelli's Passione and Daft Punk's Random Access Memories.
2014 saw Nathan release his self-titled debut solo album, which contains guest appearances by Michael McDonald, Sara Bareilles, Stevie Wonder, Eric Clapton, Kazumasa Oda, Bob James, Chuck Loeb, Ray Parker, Jr., David Paich, and his 13-year-old son Noah East.
[LEWITT] Tell us a bit about your experiences at the microphone shootout!
[Nathan East] The LEWITT mic shootout is, in my opinion, one of the only ways to actually get a true reading on what these microphones sound like. I think the best way to do a fair, balanced, and equal test is to have each microphone placed at the exact same distance from the amp, the voice, or whatever the test subject is. 
Bass is difficult to record, especially from amplifiers. There are so many different variables: the box, the cable, the placement, the speakers. But we had the TC Electronic rig and positioned the microphone at the same exact place every time, and it really gave me a good idea of what the different mics pick up. So we had a really fair test of all the microphones, and I enjoyed listening to the different sounds.
This was my first experience with the LEWITT microphones, and I was very impressed. There are so many good products out there – amplifiers, instruments, microphones – that it becomes very difficult to make a calculated decision on what you're gonna use. So this mic shootout ended up being a great way to make a clear choice about different microphones. I mean, I use many different mics in lots of different studios. But it's amazing to hear how the same instrument can sound so different under different circumstances. So for me, this is a great opportunity to learn what the microphones themselves actually sound like!
[LEWITT] What was your favorite microphone at the shootout?
[Nathan East] The LCT 840 has a sound that, especially when I closed my eyes, kind of felt like it was caressing me – it was a warm, full, and very rich sound – and from the moment I heard it, it just sounded very true and real as if I were listening inside the bass, and it generally has a lot of qualities that I enjoy in the sound of a microphone.
As far as session use goes, I'd be very comfortable with using that mic arrangement. I don't want the sound of the instrument shaded or in any way colored by the microphone's own sound!
[LEWITT] What qualities do you enjoy in the sound of a microphone?
[Nathan East] The qualities that I enjoy in a microphone's sound are warmth and range. And especially if you don't have a great mic, that's where you run into problems with distortion. So a mic should also sound clear and very hi-fi, present, punchy. I'm looking for all the notes to speak on my bass – and I have a low B, which is actually a fourth lower than what you have on a normal bass. So that's a range that's really full, and you need to have a microphone that captures it all.
So I do look for a lot in a sound – and I'm very impressed with the LEWITT microphones, which really do seem to capture the full range of the bass sound.
Links
---
Related products
LCT 840
Full-bodied tube sound with smooth high-end
Classic tube sound with modern technology
12AX7 tube
Remote control and power supply in one
Multi-pattern design
 
---
More from the LEWITT blog