Kit French
"The DGT 650 is perfect for recording demos on the road!"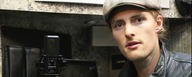 Kit French is an original recording and performing member of Mercury Records pop rock band Parachute, who hail from the college town of Charlottesville, Virginia. They've been touring and promoting their music since 2006, and they released their major-label debut album Losing Sleep in 2009 and their second album The Way It Was in 2011. The band's third album, Overnight, was released in 2013. Nearly a decade has passed since Parachute formed and Christopher "Kit" French admits there is a lot of hard work that has went into making the band last. Parachute has recently released the band's fourth album, Wide Awake.
Kit takes on a multi-instrumental role in the band, playing the tenor and baritone saxophones as well as adding background vocals and a percussive element. He even took over keyboard duties when the band's previous keyboardist departed in early 2007.
As a musician of many talents, Kit's a big fan of the LEWITT LCT 540: "I use the LEWITT LCT 540 to mic the bass and body of my Leslie cab. Its great dynamic range and studio-class sensitivity pick up every last nuance of my organ tones."
On tour Kit uses the DGT 650 USB microphone and interface: "The DGT 650 is one of the most intuitive and reliable all-in-one recording packages I've ever used. Perfect for demos on the road, recording the bands live set and everything in between!"
Links
---
Related content