Jeff Waters & Annihilator
"The LCT 940 is something special!"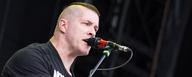 Jeff Waters is the guitarist & writer for Annihilator as well as a studio owner, producer, and engineer.
Waters has been cited by many metal musicians worldwide as an influence on their own music. Artists from bands as diverse as 3 Doors Down, Slipknot, Nickelback, Megadeth, Lamb of God, In Flames, Danko Jones, H.I.M., Children Of Bodom, and Trivium, as well as WOLF's Johannes "Axeman" Losbäck, are either influenced by Waters' writing and guitar playing or have revealed themselves to be Annihilator fans.
Music writer Joel McIver identified Waters as the third-best metal guitar player in his 2008 book The 100 Greatest Metal Guitarists, and as a multi-instrumentalist, Waters is often compared to Dave Grohl of Foo Fighters.
Waters is reported to have ghost-written many successful country/pop ballads for other artists.
He formed the band Annihilator in Ottawa, Canada in 1984, writing and recording the song "Annihilator" (not to be confused with their identically named song of 1994) with singer Big John Bates. This original version of "Annihilator" was released on the special edition of the 2005 album Schizo Deluxe.
Waters has frequently changed Annihilator's lineup over the years. During the band's early era, his goal was to create a stable lineup. However, members left for a multitude of reasons such as family issues, substance abuse, and work commitments. Due to these rapid lineup changes, Waters has assumed the roles of bass player, engineer, producer, and writer as well as guitar player. 
Annihilator has been touring prominently in Europe and Asia since 1989. And despite neither touring nor receiving significant press or label interest in Canada and the US, Annihilator has become one of the biggest-selling Canadian metal bands of all time, with the majority of their sales having been generated in Asia and Europe. 
We've met with Jeff and talked with him about his experiences with LEWITT microphones
Jeff Waters uses the LCT 940 in the studio:
"The LCT 940 mic is awesome! We a/b'd it with a Neumann, an AT 4060, and an AKG 414, and this is the only mic that had not one adjustment to make (other than our compressor/limiter.... We needed no hi-pass filter on the mic or preamp, and there was no need for singer to watch his "t's" or pops or "s's"...). We've tried all the patterns on the mic for the singer, and we basically have all we need on a simple cardioid setting with 50% tube / 50% FET!!! It's totally hassle-free, and the mic/amp pretty much do it all without even using the options! Killer!!! Anyone wanna buy a few mics we won't be needing anymore?!!! 
With all the mics I have in the studio and have had access to, there was always the issue of matching the mic with the right preamp and compressor to the vocalist. While most of us can always find that "perfect" – or at least adequate – combination of these, I'm guessing that most engineers have at least one that's more of their "go-to" mic.
Well, I have found mine: the LEWITT LCT 940! There's something about this mic that is warm but doesn't "pop" from the strong wind that comes from a loud metal singer. For the first time, I don't need to roll off any lows, neither on the mic power amp nor on the preamp. I rarely need a pop screen, and I'm able to use much less compression-to-tape than I would with the other "expensive" vocal mics in my arsenal. The "tone" of this LEWITT seems to cut nicely through mixes with loud guitars, and it finds its slot in the mix almost instantly.
I haven't had the slightest need go back to the 3 mics I'd been choosing from before. The LCT 940 is something special that stands out from all the others in this category – without the insane price tag." 
---
Related content