Genco Arı
"All LEWITT microphones have in common that they're quite technically innovative!"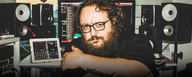 Genco Arı is a successful Turkish producer, pianist and arranger. He began his musical training at the State Conservatory of Istanbul University as a nine-year-old, and he began composing his own music at age 14. Since then, Arı has been active as both a composer and an arranger in addition to playing piano and working as a producer and mixing engineer. He began performing as a member of Quartet Muartet in 2003, and he headed the Jazz Department at what is now the Mimar Sinan Fine Arts University between 2002 and 2005. Many of Genco's former students have been accepted to educational institutions such as the Royal Academy of Arts, Berklee College of Music, and the Sibelius Academy, with 7 out of 10 of them also receiving full scholarships. In 2008, he released his own first album Wizart with Dave Erckl, Anthony Jackson, Mike Stern, and Bob Franceschini. Since then, Arı has continued to perform jazz music in Turkey.
Genco Ari discovered LEWITT's range microphones one year ago when Turkish distributor Melomani invited Genco to try them out. And since that day, Genco has endorsed LEWITT:
"Before I tried out the Lewitt microphones, I'd spent a long time using microphones of other high-quality but expensive brands. When I heard the LEWITT microphones for the first time, I was amazed at the quality of their sound – especially considering their reasonable price.
I've since used the LCT 940 for many of my productions, since this mic minimizes the need for a de-esser. The mic's different polar patterns can create miraculously effective blends that increase your chances of creating the voice of your dreams. Because the LCT 940 can be used as a Tube or FET microphone and everything in between, percussion and guitar recordings can sound like you put a separate microphone on every instrument. 
I also use the LCT 550, which is an incredible microphone because it features 0 dB self-noise and because any two of them will always form a matched pair. I choose it without hesitation for recording acoustic guitars and ethnic percussion, and as a general overhead and room microphone.
Furthermore, I use the MTP 250 DM for live performances, and the sound it gives you is very impressive – female vocals, in particular, are pleasing in a way that I hadn't known before trying out this microphone. When we used it onstage for the first time – with my wife Burcu Arı, who's a famous singer in Turkey's Jazz-Pop scene – we couldn't believe its frequency response. We A/B tested it with other microphones, and I can say that the difference is spectacular.
What all LEWITT microphones have in common is that they're quite technically innovative. LEWITT is also one of those rare brands that achieves success with both studio and stage microphones.
These mics are designed in a way that's technically and visually perfect. And the cases are stylish while providing the mics with maximum protection … not to mention the membrane quality and general workmanship, which all make for additional confidence.
I also have to say that, as an endorser, I'm very happy to be associated both with LEWITT, who have revolutionized microphone technology, and with the Melomani company, LEWITT's Turkish distributor."
Links
---
Related content