Waldo Madera
"I'd never before sounded so good!"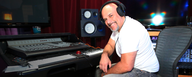 Waldo Madera started his career as a professional drummer at the age of 15 with the Dominican-Brazilian groups Maguey and Irka & Tadeu Con Trabanda. Between 1987 to 1991 he studied at the Manhattan School of Music NY, and soon after got the opportunity to play with some of the great Latin Jazz artists such as Paquito D'Rivera, Rafael Cruz and Dave Valentine amongst others.
Waldo plays drums, bass, guitar and percussions and as an multi-instrumentalist, Waldo has worked with some of the greatest exponents of jazz, including Paquito D' Rivera, Rafael Cruz, Michel Camilo, Dave Valentine, Víctor Mendoza, Arturo Sandoval, David Sánchez, Gonzalo Rubalcaba, Giovanni Hidalgo, Sheila Escovedo, Cachao, Tom Scott, Anthony Jackson, Wynton Marsalis, Scott Henderson, Oskar Cartaya, Héctor Infanzón, Guillermo Vadalá, Luis Salinas, and others. Performances have taken him to many of the biggest and most prestigious jazz festivals in the USA, Canada, Latin America and Europe. He released his first solo album in 1995 under the Label BMG / Coyoacan Records.
Waldo has also worked as hired musician for tours and/or recording sessions with a long list of top Latin pop and rock artists such as Ricky Martin, Juanes, Carlos Santana, José Feliciano, Ricardo Arjona, Alejandro Sanz, Miguel Bosé, Ricardo Montaner, Cristian Castro, Pandora, José Luis "El Puma" Rodríguez, Celia Cruz, Juan Luis Guerra, Emmanuel, Raphael, Edith Márquez, Francisco Céspedes, and Sin Badera, to mention just a few. When not touring, he also works as a composer, arranger and producer for various other artist and bands from Latin America. You can listen to Waldo's session work on more than 200 albums plus 6 DVD/CDs with Ricky Martin and 2-time Grammy Award / 20-time Latin Grammy award winner Juanes. These productions include Ricky Martin's MTV Unplugged album of 2006 and Juanes's MTV Unplugged album of 2012. Waldo embarked on a 14-month world tour featuring the latest Juanes CD in October 2015.
Waldo about LEWITT:
"The more I use them, the happier I am. LEWITT microphones don't have a colored sound. They sound more natural and have warmth. 
When I performed with Juanes at the 2014 Billboard Awards, a lot of engineers complimented me and said that my drums sounded the best of the whole show. Fans thought the performance was recorded instead of live. That's how good they are! I'd never before sounded so good on TV. Thank you LEWITT, and thank you Billboard engineers. LEWITT is a real pleasure. I love the sound of my LEWITT mics. We did showcases in Mexico, and the monitor engineer said my drum mics sound f*!`#n amazing! He's a huge fan of another brand, but he told me that the LEWITT mics sound better.
I use the DTP 640 REX on my bass drum. It has a dynamic and condenser mic in the same shell. It can pick up all the nice fat sounds from the bass drum, and at the same you have that nice clear click from your beater so you could hear every note you are playing on it but it still sounds nice and fat. I love that! I really really love that sound."
Links
---
Related content