Warren Huart
"LEWITT makes high quality, affordable microphones!"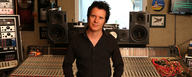 Warren Huart is an English music producer, songwriter and multi-instrumentalist based in Los Angeles. He has played a fundamental part in the creation of many platinum selling and billboard soaring albums, as well as the development of many of today's most successful artists' careers. Warren has worked with James Blunt, Aerosmith, Korn and many more. He is also the founder of the Produce Like A Pro video series, which offers recording tutorials to beginners as well as Spitfire Music, a one-stop music house focusing on licensing music for film and TV.
Warren is known for his hard work ethic, positive attitude and respect for the artist's vision. Many of his long term relationships have turned into close friendships. With over 20 years of experience in the ever expanding music industry (record production, engineering, mixing and songwriting), as well his extensive knowledge of both modern and vintage musical equipment and instruments, Warren manages to create the most diverse sound around.
Warren about his experiences with LEWITT:
"LEWITT makes high quality, affordable condenser microphones that give everyone access to great recordings at a fraction of the cost and I use them for overheads and acoustic guitar everyday. 
LEWITT mics have a crystal clear top end. I needed a large amount of matched condensers and the LEWITT ones sound fantastic. When using multiple mics on one source, such as a drum kit, they always sound consistent and detailed. I love the LCT 340 pencil condenser.
LEWITT mics happen to be affordable but I use them because they are great."
Warren recorded a full song using ONLY the LCT 540 S, to show how the microphone sounds on a variety of applications.  
The song is called "Nothing I Can Say" and Warren wrote it with Buck Johnson, Aerosmith's keyboard player (before he was Aerosmith's keyboard player!). In this version of the song we have Matt Starr (Mr. Big, Ace Frehley) on drums and Warren playing the rest of the tracks!
In this video, Warren did not only capture the acoustic guitar and scratch vocals, but he did a comparison between his vintage Neumann u47 and the LCT 440 PURE.  
Warren Huart about the shooout: "We were both stunned at the results and plan on using the LCT 440 PURE for the rest of the vocals on this song. We both loved the sound. You're going to love this video! We had a lot of fun making it. Download the files so that you can hear our comparison of the U47 versus the Lewitt LCT 440 PURE."
Links
---
Related content