Blog
True love for great sound unites us.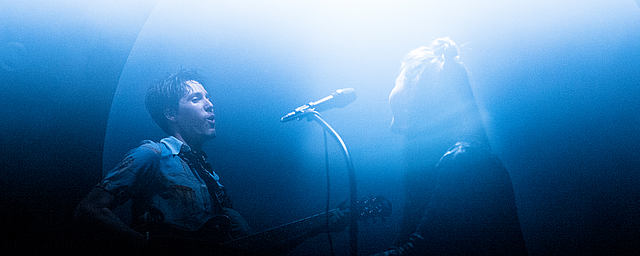 Cari Cari released their debut "ANAANA" last November. Prone to a DIY approach, they do everything on their own, ranging from songwriting and visual appearance up to merchandise.
The band is currently touring and we've met Stephanie Widmer and Alexander Köck to talk about sound experiments and the development of the record.
-Translated from German-
[LEWITT] Right now you're touring your album "ANAANA". How is it going?
[Alex] Great, we're totally happy about it. Most shows have either been moved to larger venues or sold out completely. The people's reactions are just really awesome.
[LEWITT] You have a beautiful stage design with a huge sun - did you develop that on your own? 
[Stephanie] Yeah, that's my idea. I constructed it with my dad and then sat down to sew all the fabric. Much harder than one might think. (laughs)
[Alex] I think it came out pretty cool. The sun is actually the album's common theme, and we thought it'd make sense to bring that on stage visually as well.
[LEWITT] Before the tour started you did a shootout to find a new vocal mic. The MTP 550 DM stood out against the others, what do you like about the mic? 
[Stephanie] On stage, it's extremely important that your vocals cut through the mix. Singing is only half the fun when you can't hear yourself. And I believe that LEWITT mics cut through really well, even when they're not leveled up all the way. We had a different sound engineer the other night, and he noticed it as well. He mentioned how he usually has to turn It up for a microphone to come out on top, but not so with the LEWITT mics. They just push right through.
[Alex] At the same time we'd have to add that we're heading for slightly warmer and vintage-style sounds, which means we despise those unpleasant digital high frequencies. The MTP 550 DM shines here as well, it's not thin and brittle at all. You talk into it, and it sounds clear and cuts through, apart from that it has that kind of solidity to its character. To me, it makes my voice sound like my voice, which is one of the premises that we stick to. It's highly functional for live applications and delivers what we want, sound-wise. We think that's a true godsend.
[LEWITT] Your guitars on "Mapache" have that Spaghetti Western tone to them. How did you find that?
[Alex] It's important to me that guitars don't sound too narrow. Quite often they sound narrow, thin and kind of hollowed-out. My intention for the sound was to have quite a body of its own, which is necessary when you have a guitar providing bass lines and melodies at the same time. I'm actually quite the intuitive guy, and no professionally trained engineer. That's why I prefer trial and error until it fits.
[LEWITT] Did you do a lot of tweaking to the guitar sounds in post-production?
[Alex] I'm using Ableton Live, mostly the various compressors and equalizers. I have that pretty cool plugin called Convolution Reverb. Also, I bought an analog cassette tape deck to bounce guitar tracks to tape and re-record them again. There are a few tricks like recording with noise reduction but switching it off during playback, which results in an interesting kind of compression. I did a lot of experimenting with that.
[LEWITT] Speaking of experiments, did recording the album yield any light-bulb moments?
[Alex] Totally, for "Mapache", I did a really quick mic setup when I recorded the guitar for the demo. After all, that's the track we ultimately ended up using. I tried to re-record it multiple times, but I never quite managed to get there again performance- and sound-wise. Sometimes there's really something magical, making a recording special, that's really hard to ever reproduce. In my opinion, it's important to have a basic system and knowing where to place the mic and what knobs I can turn up, so I know it works well, and that's cool. As soon as I get that going, there's room to get wild and experiment – maybe just trying to record the room, maybe some tape deck experiments, stuff like that.
[Stephanie] We did quite some experimenting with the vocals as well – using many different microphones. There was that old Russian mic that suited my voice very well but didn't work for Alex' at all. We had to fiddle around a lot because our two voices work well with different microphones. We also played with the Roland Space Echo for quite some time.
[Alex] I believe in immediate epiphanies. If something doesn't run smooth and you decide to rather tweak it in post-production, it usually doesn't work at all – that's my experience. And that's where LEWITT microphones save the day. I talked into them for the first time and had an instant light-bulb moment.  
Cari Cari live in der radioeins Lounge 2018 mit dem MTP 550 DM
---