Blog
True love for great sound unites us.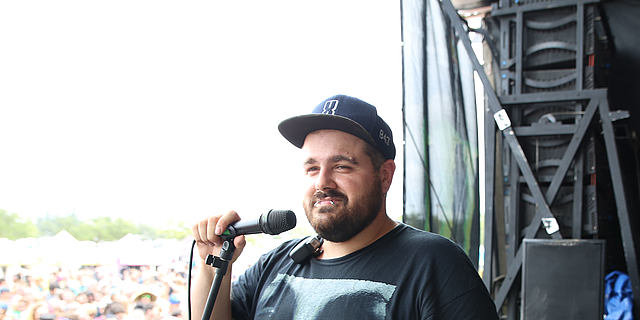 Gino Scarim is a sound engineer and tour manager who started recording bands out of Chicago in 1999 and currently still owns Red Door Recording Studio in Fox River Grove, Illinois. He first got his feet wet playing a few national tours with his own bands (Slim Jim Conspiracy and AfterProject). Thereafter, he was hired by the Clearwater Theater in nearby West Dundee (where he mixed either FOH or monitors for national touring artists), as well by the iconic Chicago venue Metro. And in 2009, Metro's talent buyer Craig Teide was in need of crew for Plain White T's for a US headline run and ended up giving Gino what would become his breakthrough gig in the professional touring world.
Gino works for Plain White T's as their monitor engineer. Other bands he's worked for as FOH include Tilly and the Wall, Asking Alexandria, The Amity Affliction, Blessthefall, and Chelsea Grin, to name just a few.
What's it like, going on these major tours by the bands you work with?
Well, it's amazing! I really love the opportunity to be in touch with such great artists on regular basis. For most of them, what I actually do is front of house engineering – Plain White T's is the only band I do monitor engineering for.
What kind of gear do you like to use when you're on the road?
The main microphones I use are by LEWITT. My favorite mic is the DTP 640 REX for kick drum, and I really like the LCT 340's on my overheads – those are head and shoulders above anything else I could use! I also really like the MTP 440 DM on my snare drum, and for guitars and vocals I use the MTP 550 DM.
With those mics as your mainstays, what in particular makes you chose the LEWITT mics over mics by other companies?
I really have to say that I like the flexibility between the condenser element and the dynamic element of the DTP 640 REX. Since you can control the condenser and the dynamic mic inside the DTP 640 REX independently, it really gives you good separation between your high-end and your low-end – and I love that it is always in phase. It's a workhorse, and there's no other microphone I'd rather use.
With the LCT 340, the thing I really like is that the response of the mic is so smooth in the high-end; you don't get the harshness that you get with most small-diaphragm condensers. So I don't need to EQ like crazy: I just throw it up there, and it sounds great!
With the MTP 550 DM vocal mics, the gain before feedback, the clarity of the mic … everything about it is exactly what I'm looking for in a vocal microphone. It's very sturdy and can take a beating, it just keeps working night after night, and for the sound of the bands I'm working for, it's ideal!
You also own a recording studio: What are you using there?
My go-to mic in the studio is the LCT 940, and with its nine polar patterns and ability to go full FET or full TUBE or blend in between, there's nothing even close to it – it is just so versatile! And it really makes any vocals stand out in the mix. It's always the first mic we take out and try on everyone first, and it works every single time. Besides which, I just can't describe the presence and warmth that you can get out of this microphone.
You mentioned that the LCT 940 lets you go from full TUBE to full FET. Is there any particular position that you like more than a different one for a particular vocalist?
To be honest, everyone who comes in has a unique voice, and we're able to fine-tune it for every singer individually. So there isn't really a go-to setting: we usually start from wherever the settings happen to be, and we'll just sweep around until we find the sweet spot – which is pretty easy to find. Same situation when we use it as room mic to add warmth and depth to our drum mixes. And there, as well, I haven't found a setting that I always go to – it all depends on what we're micing, and it's so easy to sweep around and find the exact sound you're looking for, between the different polar patterns and between TUBE or FET or blend. It's so versatile that it gives you everything you need, and it's very easy to use.
Any final comments you'd like to make about LEWITT?
I think everyone should try out their microphones! I mean, LEWITT makes such a wide range of mics for live and recording that every engineer can benefit from checking out their products. You'll definitely be happy with the sound quality you get – and about how versatile these mics really are.
Links
---