Kiyanu Kim
"The LCT 840 has a great classic sound!"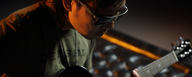 Widely recognized as both a performing artist, composer and producer who has worked with an impressively versatile roster of clients and co-wrote Wrecking Ball for Miley Cyrus.
Kim describes his sonic signature as "melodic, organic, ethereal, and atmospheric", and has been lauded for being able to maintain this unique signature throughout working with an assortment of genres and clients. He has received accolades for his composition for both television and film, which has included placements with Nickelodeon, MTV, NFL Network, Animal Planet, and Bravo as well as other programs and networks in more than 20 countries.
Kim's passion continues to bring him to great heights, which include performing at many notable events and venues such as the Grammys, Madison Square Garden, the 2014 Sochi Olympics, and SNL alongside iconic artists including Gwen Stefani, Lamont Dozier and Gala.
Described by Joe Bonadio of Sting as "the best friend a song can have", and acknowledged by Sony/ATV Publishing Songwriter Mozella as "an excellent guitar player and a very talented song writer", Kim continues to elevate his unique sound to the highest standard of excellence, exemplifying the qualities of someone who will continue to dedicate their life to the arts.
Remaining one to watch, his many remarkable accomplishments thus far appear to be only the beginning of what has already been a lifelong, legendary career.
Kiyanu about his LCT 840: "The LCT 840 has a great classic sound. It's very very warm and has a beautiful power supply. It's a great replacement for a U47 and it is so well-made. I really, really like it. For me, it's a great mic for a female vocal!"
Links
---
Related content