Made Violent
"The MTP 550 DM sounds bright and crystal-clear"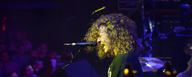 Made Violent, the WORLD FAMOUS AMERICAN ROCK BAND (as their twitter account so meekly puts it), was born in Buffalo, NY just a few years ago, and even so: drummer Justin Acee, vocalist and guitarist Rob Romano, and vocalist/bassist Joe White are already making incredible strides in the music industry. The unmistakable sound of Cage the Elephant's garage-infused rock 'n' roll had a huge influence on them. And their singles (including "Dirty") as well as a mention in the famous British music magazine NME show that they're not a flash-in-the-pan rock act. With appearances at the CMJ Music Festival in NYC and SXSW in Austin, Made Violent now appears unstoppable. Though still based in Buffalo, they're already enjoying a taste of their recent, well-deserved ascent into popularity. After signing with Columbia Records, the band began touring nonstop, and they also put out more music as well as a video for their single "Dirty" – which, all in all, is not bad for a band that just might be the next and hottest export from Buffalo, NY since the Goo Goo Dolls.
Joe White: The LEWITT MTP 550 DM vocal mic is great! I don't think I have played a single show without it. It's really great to EQ and you don't have to do much work to get it sounding great. It's also great in our monitors, because it has high gain before feedback – so I can put as much vocals as I want on the monitor. It sounds bright and crystal-clear, so it's perfect for rock 'n' roll. And the MTP 440 DM dynamic cardioid mic is fantastic for guitar cabs. We're using it on Rob's guitar cab live, and it sounds nice and wide and also has this awesomely high gain before feedback. The most wonderful thing about the MTP 440 DM is that we also used it on a record with Justin on the snare drum: the snare just cracks off, and there's this amazing attack … just nice and wide and open – fantastic!
---
Related content