Blog
True love for great sound unites us.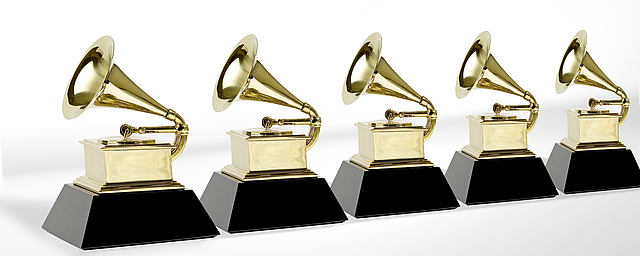 We'd like to take this opportunity to congratulate several longtime members of our user roster on their nominations for the upcoming 60th GRAMMY® Awards, which will take place at New York City's Madison Square Garden on Sunday, 28 January 2018.
Let's begin with 2017's most successful LEWITT endorsers: Ray Charles McCullough II, Jeremy Reeves, Ray Romulus & Jonathan Yip – widely known as The Stereotypes – pulled in one of the coveted nominations in the "Producer Of The Year, Non-Classical" category for "Before I Do" (Sevyn Streeter) as well as nominations in the categories "Song of the Year" & "Best R&B Song" for their production work on the Bruno Mars hit "That's What I Like."
LCT 940 endorser Supa Dups, who produced Shakira's new record El Dorado, is nominated in the "Best Latin Pop Album" category. He's also been nominated for 3 Latin Grammy Awards. When we asked how his collaboration with Shakira came about, Supa Dups told us: "I got the gig working with Shakira based on the stuff that came out recently that I'd done with Drake. I did two songs with Drake that became quite popular, and that brought me back to Shakira, and then we flew over to Spain and worked there together on her eleventh studio album. It was lovely – she's a very, very nice person!"
The Common Kings, as well as J-Boog are nominated in the category "Best Reggae Album". A while ago, we talked with the Common Kings about the songwriting process for their nominated album "Lost In Paradise" and the role LEWITT played in it: "Recently we recorded 3 tracks with the LEWITT LCT 840 tube mic and were so pleasantly surprised how warm and fat Junyer's tone was. We're so confident that we now have the perfect vocal mic. The LCT 840 has crisp tone, great body, and exceptional clarity. This mic inspires the band." J-Boog, who's been nominated for his "Wash House Ting," uses the DGT 650 to record his song ideas on the bus while travelling. Luckily, we don't have to decide who will win this hotly contested award – both contenders deserve it!
"Get Soul" by Robert Randolph & The Family Band has been nominated in the category "Best Contemporary Blues Album". Robert uses the MTP 550 DM onstage: "I'm singing through the awesome MTP 550 DM, which gives me all the great vocal sounds and makes me sound five times better than I'm actually singing. It compresses really great when you're yelling into it and kind of really going hard on it; it's great, and it's much easier to EQ than a lot of other microphones. So it's just really awesome."
Jimmy Douglass, who owns the LCT 640 TS, is nominated for "Album of the Year" and "Record of the Year" for mixing Jay Z's "4:44" and "The Story Of O.J." In an interview, he said the following on his approach to mixing the album: "I know that one of the things that happened to me was that, the day I came and first started mixing, Jay walked in and made a few comments about how I was going at it. I was mixing it to be "THE GREATEST THING YOU EVER HEARD IN YOUR LIFE," and he was like, 'Dude, it's kinda unravelling a little bit here. It doesn't really remind me of what it felt like.' And I think that's actually what they brought me in for, to have somebody who had the ability to let it be the record, and let it breathe and make it better without actually changing it. Because most mixers, that's their first inclination: 'I'm gonna walk in and change this and make this great.'"
Another huge shout-out goes to The Baylor Project - the husband-and-wife jazz duo scored two Grammy nominations: one for their debut album "The Journey" which is nominated in the category "Best Jazz Vocal Album" and the other for their song "Laugh And Move On" in the category "Best Traditional R&B Performance."
We've got our fingers crossed, and we wish all of them the best of luck!
LEWITT microphones continue to be the choice of top recording professionals, and we want to thank all of our users for their loyalty and for their role in spreading the word!
---