Blog
True love for great sound unites us.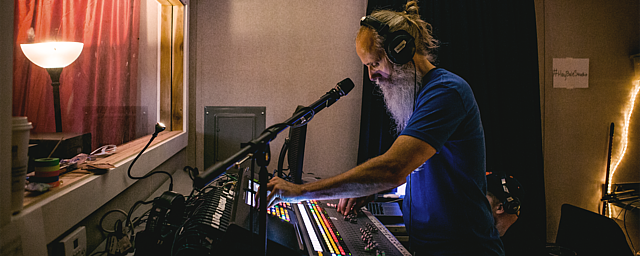 As the owner of Grammy-awarded The Toy Box Studio in Nashville, Tennessee and founding lead engineer of Bonnaroo's famous Hay Bale Studio, Lij Shaw is a chart breaking music and podcast producer with more than 25 years of experience and hard-earned technical prowess fueled by a love of music and a passion for engineering and recording.
This wizard-behind-the-curtain of Hay Bale Studio backstage at Bonnaroo has recorded and mixed over 1,000 songs for broadcast with world-class artists like Sheryl Crow, Jack White, Zac Brown, Adele, Tori Amos, The Black Keys, Wilco, Medeski Martin and Wood, Warren Haynes, Bruce Hornsby, Jon Oates, and many, many more in every genre you can think of.
Lij tells us a bit about recording at Bonnaroo and his experiences with LEWITT microphones...
[LEWITT] What's the best thing about recording at Bonnaroo?
[Lij Shaw] The best thing about recording at Bonnaroo is that you have an incredible festival that attracts the best bands from around the world to play at it, and I'm in that wonderful backstage studio where we're recording bands every hour for four days, giving them an opportunity to get their music broadcast on radio stations all over the country. The very best bands at the festival are selected and asked to come in and record in our studio, and since they only do two or three songs, it ends up being a best-of-the-best.
[LEWITT] What challenges do you run into when you record at Bonnaroo?
[Lij Shaw] Sometimes it rains, and then it can be a bit challenging to move around. We have had a couple of tornado warnings in the past, and sometimes they would just evacuate us – and that can be a little bit tricky, too. But those are small prices to pay to be in this inspiring environment with music and creative people and this buzzing energy of folks from young to old having a good time.
[LEWITT] How many different bands do you usually record in a single day at Bonnaroo?
[Lij Shaw] Our target has been 40 bands in four days, so I think at max we've recorded 10 bands in one day … and it's just an intense turnover where a band walks in the door, we meet and greet them and find out how they'd like to arrange themselves, whether they want to do a full band thing or a broke-down, acoustic performance … and then they walk in, and they're usually kind of surprised that we've got this wonderful studio right there.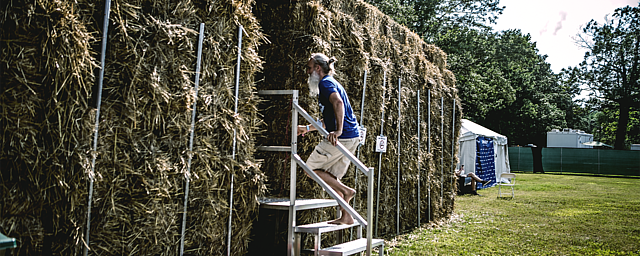 [LEWITT] You have to record a lot of bands over these four days; does a mic like the LCT 940 help in your workflow?
[Lij Shaw] When we first recorded at Bonnaroo I defaulted to using dynamic mics for vocals because it seemed like an appropriate thing to do, with a lot of information going on and that sort of thing. But then, when I had the opportunity to try out the LCT 940, I had this incredible jaw-drop moment, because I'd forgotten just how amazingly full and bigger-than-life the vocals could sound in our little studio. So now, every time there's a session that doesn't have too much drums rocking out in there, we pull out that mic. Whenever it's an acoustic guitar and someone's singing or we have just a couple of musicians playing together, we bring the LCT 940's in and they sound just incredible. They make it sound like we're in a world-class studio instead of being in a hay bale-covered trailer behind a stage on a farmer's field. One of the things I really like about this mic is that it has variable settings on it, which makes it so easy to dial in and really hit a sweet spot for a vocal tone. For example, we can put a low-cut filter on and cut out any of the sub-information we might not want and might still be bleeding in through the hay bales – by cutting the vocals at 40 Hz and below. And I can also dial in the polar pattern of the mic, so usually I'll do a cardioid or a hypercardioid and get just a little bit of directionality that way. Which also makes for a really nice proximity effect and vocals that sound really full and warm. My favorite thing about the LCT 940 – other than the fact that it's got this wonderful little glass window where the artist can see this warm glowing orange tube and everybody comments on how cool it looks – is that you can choose between the mic's tube and FET settings and everywhere in between. It's remarkable how the two different settings lend different qualities to a voice. A lot of the times I end up using 40% tube and 60% FET; the mild tube saturation gives the voice a warm, full tone with rich harmonics, while being a little bit more on the FET side brings out the detail and the crispness in the sibilance and the consonants in the vocals – and essentially, it just makes the mic sound more focused. It's almost like taking this wonderful vintage lens that comes with the tube sound but then being able to focus in to get really great detail by leaning a little bit more towards the FET setting. That makes it easier for me to get a great vocal sound there or in any studio setting without having to do quite as much in the mix on the back end. You know … if you start out with a great sound, that's always the best way to get it great in the mix.
Links
---