Blog
True love for great sound unites us.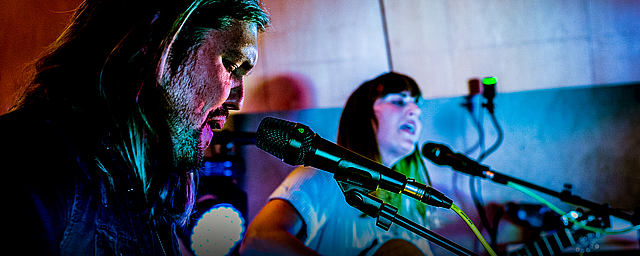 Update
The Giveaway is now closed to submissions!
Make sure to never miss a chance to win free LEWITT microphones by subscribing to our newsletter.
We'll let you know about future mixing contests and giveaways.
---
The Giveaway
This time around we want to give you a heads-up about a real treat. Your chance to win 1 of 2 exclusive 12-inch mastering vinyls featuring two songs from Band of Skulls' Clash Live @ Metropolis session - captured with LEWITT microphones.
Band of Skulls recorded new arrangements of their brand new tune "Cool Your Battles", and their song "Nightmares" - both renditions accompanied by a string quartet. This special 12-inch master vinyl is limited to 5 pieces worldwide. 
Enter the giveaway at the end of this page and get some behind-the-scenes insights about the recording session on your way down. 
In this interview, Russell and Emma of Band of Skulls talk about the songwriting process for their new album LOVE IS ALL YOU LOVE, coming out April 12.  
In the video below Metropolis Studio Engineer Alex Robinson runs you through the setup and shows you how the session was recorded. 
Tour Dates:
Mon, APR 15 | Komedia | Bath, UK
Tue, APR 16 | Islington Assembly Hall | London, UK
Wed, APR 17 | The Stolller Hall | Manchester, UK
Thu, APR 18 | St. Luke's Church | Glasgow, UK
Thu, MAY 2 | Mercury Lounge | New York, NY
Mon, MAY 6 | The Echo | Los Angeles, CA
Fri, JUL 26 | Standon Calling | Standon, UK
Links
---