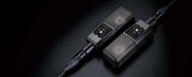 LCT 640 ranks in top 10
Gearslutz community voting
Recently the Pro Audio Community Gearslutz asked the community to name their favourite mics under $1000 and we proudly announce that the LCT 640 assured a top 10 rank in the overall ranking of the most recommended microphones.
Gearslutz wrote about the LCT 640: 
"A gorgeous looking microphone with a tremendous sound quality and a big feature set from the rising Austrian brand LEWITT. On the outside the LCT 640 presents a rugged metal construction, with a distinctive hexagonal metal grille, a gold-plated corrosion-free XLR connector and an illuminated front panel that provides access to polar pattern selection (cardioid, 'broad cardioid', supercardioid, omni, figure-of-8) and a gain attenuation pad (-6/-12/-18dB). 
On the inside, LEWITT packs a transformerless design with a wide sound from 20Hz to 20kHz, excellent transient response, super low self-noise and a maximum SPL up to 163 dB (with pad). This is one of LEWITT's upper mid-tier condensers and this comes at a cost compared to their entry-level models, but if you're willing to step up it's a very worthy investment. LEWITT also offers a tube version of this microphone and there are lower cost models (LCT 550, 450 and 240), so make sure to check them out."
---
Related products
---
More from the LEWITT blog