Blog
True love for great sound unites us.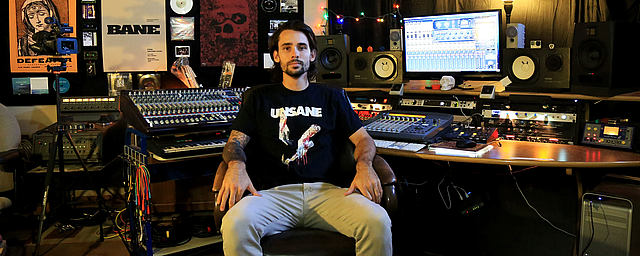 Zach Rippy is an audio engineer who splits his time between recording artists at his own production studio, Sound Signal Audio, and doing live sound. He's worked with figures including John Petrucci of Dream Theater, New Found Glory, Silverstein, Dead Kennedys, Anti-Flag, Senses Fail, Parkway Drive, Cruel Hand, Whitechapel, Pentagram, and many more.
[LEWITT] Please tell us what you're doing these days…
[Zach Rippy] I'm currently working a lot at the recording studio, mixing live in studio session videos and some live concert performance videos. I've also got quite a bit of touring scheduled. On tour, I use the DTP Beat Kit 6, and I specifically like the DTP 340 REX because it does what I wish a Beta 52 would do. It's got a much tighter low-end response without the basketball lower mids that you kind of scoop out of the way. For vocals using the MTP 550 DM, which is a super-useful mic, I almost never get feedback – unlike the other mics I've used in the past. One of the vocalists I tour with actually prefers the grille of the MTP 550 DM, since it's bigger with a flat end. He's more of a mouth-right-on-the-mic guy … this grille works better than the rounder ones he's used in the past. I also have two LCT 240 PRO's for stereo recording I use on basically everything I do now – either as the overheads or just as a room pair. I primarily work with heavy bands and heavy music, so I've got a lot of "cymbal-bashers" – the LCT 240 PRO's still come across super-transparent without being harsh. This is really nice, because I've had problems with that in the past. One of my LEWITT drum mics took an actual bashing recently, and came out just fine – so they really can take a beating.
I did change the 140s to the 240 PROs. The 140s are already in the beat kit we talk about and I do actually use the 240 PROs as my stereo pair all the time now.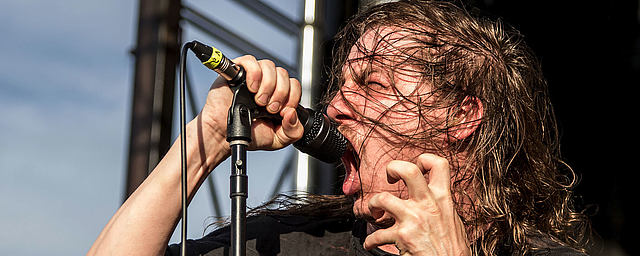 Power Trip frontman Riley Gale with the MTP 550 DM at Welcome to Rockville Festival [Photo © Troy Browder // Shutter 16 Magazine]
[LEWITT] What can you tell us about the sound quality of the MTP 550 DM?
[Zach Rippy] It sounds very transparent with a full mid-range, and I don't find myself using a high-pass filter nearly as much as before. Normally, that's the first thing I'll do when I try to clean up the mix, but with the MTP 550 DM, that's not necessary anymore.
[LEWITT] Any final comments you'd like to make about LEWITT?
[Zach Rippy] Yeah, besides the sound I really like the design. You know, I hate studio gear that maybe sounds good but looks like a child's toy. The LEWITT stuff looks very professional, and that sets the tone before you even get started.
---