Kyle Hamilton
"Their precision captures the drums, like no other mic does!"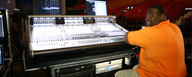 Kyle Hamilton is one of the most experienced and renowned FoH engineers in the business. He's currently on the road with Janet Jacksons Unbreakable world tour, and his overall FoH credits read like a true who-is-who of the music industry: Pharrell Williams, Rihanna, Prince, Toni Braxton, R. Kelly, Robin Thicke, Kelly Rowland, Lionel Richie, Mary J. Blige, and many more. We don't need to say how proud we are to count him among the ranks of our official LEWITT endorsers.
We caught up with Kyle at a sound check for Janet Jacksons Unbreakable World tour and asked him about his micing techniques on the drums and his experiences with LEWITT microphones.
[LEWITT] Which LEWITT microphones are you using on the "Unbreakable" tour?
[Kyle Hamilton] Currently, I use the LEWITT mic package on the drum kit and on some of the vocal stuff.
[LEWITT] Can you tell us a bit about your micing techniques on the drums?
[Kyle Hamilton] I use the DTP 340 TT's on the toms, which are amazing-sounding mics. The mic really brings out the essence of the drums' tone. Basically, what you put in is what you get out. I mean, if you have a poorly tuned kit, it would expose it – but with our particular drummer and his tech, it enhances what he's putting out.
[LEWITT] What can you tell us about the mic you're using on the kick drum?
[Kyle Hamilton] On the kick drum I use the DTP 640 REX. That's a dual-diaphragm mic – dynamic and condenser – and I love the way it sounds. The micing technique with this particular mic is very directional, so placement is everything. If you have the mic off-center vs. deep in the hole or out, its characteristics change drastically, but when you find that sweet spot, it's a magical sounding mic.
[LEWITT] What do you look for when you mic the snare?
[Kyle Hamilton] With the snare, what I look for is that inherent overall "crack," that power, that thunderous snare. The pulse between the kick and the snare, that pulse that really helps make a song. Now, what I love about the MTP 440 DM is that when the drummer plays sidestick, it picks all that up without me having to drive it harder. It's about the balance between the snare and the sidestick – I've always had issues with sidestick, but as soon as I started using the MTP 440 DM, it was almost like I didn't have to search for it from song to song – it was just there. So that's one of my major bullet points regarding the MTP 440 DM. You know that when you get to that sidestick, it'll be in your face.
[LEWITT] What's about the bottom snare?
[Kyle Hamilton] For my bottom snare I use the LCT 340 – a pencil condenser mic. That picks up all the snare's little nuances. Once again: it's bold, in your face, and you know that if you look for that top and bottom snare combination – where you get that crack – it just feels right. Everybody's microphone-techniques are different, but for me, that balance works out great. I typically have the snare top at plus 5db over the snare bottom mic.
[LEWITT] How do you catch the sound of the floor toms?
[Kyle Hamilton] I use the LCT 550, and that mic just speaks for itself. It's one of the quietest microphones I've ever used, especially when it comes to floor toms. You like to gate them, but I don't want to gate them to heavily because then you miss the resonance on that low-end stuff as the decay happens. So with that mic having such a high rejection, I don't have to put a tight gate on it. I use the three-finger distance pattern from the center of the diaphragm to the top of the floor tom head. I also mic that in between the rim and the head, right in that little sweet spot, to get that deep, bold heaviness that you want from a floor tom – that thunderous sound.
[LEWITT] What are you looking for in a microphone when it comes to the overheads, and why did you choose LEWITT microphones?
[Kyle Hamilton] I use the LCT 640s for the overheads. At the end of the day, what I look for in a microphone is an uncolored sound – I want it to be transparent. And what I get out of the LEWITT brand on many different levels is that it does exactly what I ask it to do. It's very transparent – I get the true sound. I don't have a colored sound, which is what most engineers try for: they want it to be an extension of the instrument, not just their own rendition of it. So LEWITT microphones give me my "transparent," record-ready mix with a live feel to it. And as a result of that, I've switched all my technical riders for all of the bands that I mix over to LEWITT mics. If they don't own them, they have to buy them – I don't want to bring along my own, since I use them for my home studio. The LEWITT brand has definitely become a new benchmark, and I endorse them one hundred percent.
Links
---
Related content