Blog
True love for great sound unites us.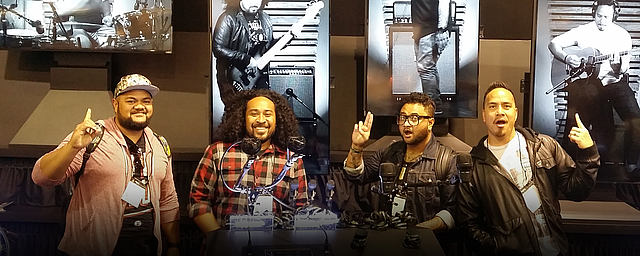 Southern California's Common Kings recently received the exciting news that their debut album Lost In Paradise would be one of five albums nominated for a Grammy award in the "Best Reggae Album" category. We talked with bassist Uncle Lui about the Grammy nominations and their plans for 2018.
[LEWITT] How does it feel to be Grammy nominees, and what was it like first hearing that your debut album Lost in Paradise had been nominated for Best Reggae Album?
[Uncle Lui] We first heard about the nomination when our tour manager called us at five in the morning. We were staying at a hotel, and we screamed and jumped around and pretty much woke up everyone else there. It was pretty awesome; it came totally unexpected, and we're super, super excited about it.
[LEWITT] Where did you record "Lost in Paradise"?
[Uncle Lui ] We kind of recorded it in a few different places. We did most of the postproduction in a studio in Carson, we did a couple of sessions at Clear Lake Studios in L.A., we did a couple of sessions at a studio in Hawaii, and when it comes to vocals, we recorded them in our home studios. We recorded most of Junyer's vocals with the LCT 840 tube mic, since it brings out the clarity, warmth, and texture of Junyer's voice and makes it sound very unique.
[LEWITT] Are you guys going to walk the red carpet?
[Uncle Lui ] No, that's the craziest thing! We're headlining the ONE LOVE Festival in New Zealand, which is literally the day before the Grammy Awards Ceremony. So we're still working that out – and at the moment it seems like we will be missing the ceremony, but we'll make it to New York for the after-show party. Our management team will be at the ceremony itself, so that if we do win – and we're all crossing our fingers – they can accept the award on our behalf.
[LEWITT] So if you guys win, it's going to be amazing – but if you don't win, who do you want to see win instead?
[Uncle Lui ] That's a hard one - each individual deserves it! But you know what, if we don't win, we hope our brother J Boog does. He deserves it, man – he's been in this game for so long just grinding it out, opening a lot of doors … he's due, man!
[LEWITT] What are your plans for 2018?
[Uncle Lui ] We've already got a pretty full schedule. We have a bunch of tours coming up: there's a UK run with the Wailers in March, we're going back to Australia in April or May, and then we have a summer run. So that will take us pretty much clear up to the end of September.
[LEWITT] Any final comments you'd like to make?
[Uncle Lui ] We just want to thank LEWITT, since they believed in us right from the beginning and have kept us sounding good for a really long time now.
Acoustic version of the Common Kings hit "Kingdome Come"
Links
---