Blog
True love for great sound unites us. 
Aaron Gillespie
Aaron Gillespie is a drummer, lead vocalist, solo artist, producer, and composer who's best known for being the drummer and clean vocalist for the metalcore band UnderOath, as well as lead singer and rhythm guitarist in the alternative rock band The Almost, and touring drummer for Paramore.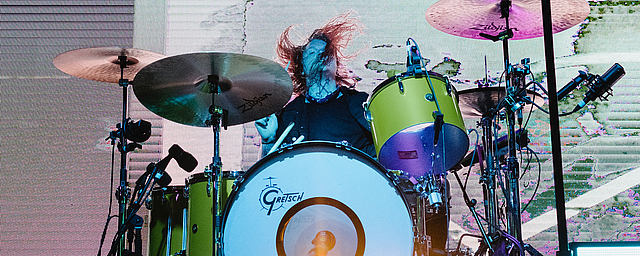 Aaron Gillespie is a drummer, lead vocalist, solo artist, producer, and composer who's best known for being the drummer and clean vocalist for the metalcore band UnderOath, as well as lead singer and rhythm guitarist in the alternative rock band The Almost, and touring drummer for Paramore. What's more, Aaron has already become one of the most dynamic, outspoken, and visible artists in the music scene today.
[LEWITT] Aaron, tell us a little bit about how your career got started and how it's developed over the years…
[Aaron Gillespie] It all started because my dad had this crazy big record collection that I listened to all the time when I was around three or four. The earliest thing I remember is listening to the album Pet Sounds by the Beach Boys, and with so many harmonies, it felt like I was literally inside the record. Also, my mom was a travelling musician in a southern gospel band, and my cousin was a drummer, so at the early age of four or five, I just knew that I was going to be a drummer. Ten years later I started playing with UnderOath, and a few years into that, I began to feel that I really wanted to be a songwriter. So I started figuring out how to play piano as well as guitar, and I eventually realized that I'd inherited my family's singing gene. So you know, as cheesy as it sounds: I think it was just in the cards for me.
[LEWITT] You started recording in other people's studios – but for a few years now, you've kind of had your own studio. How did that all came about?
I've been doing production work for years and years, now, but at first I always had to travel to someone else's studio. And then, about four years ago, I moved from Florida to Salt Lake City, Utah. I was looking for a place where I could put all my gear, but Salt Lake City's pretty expensive, these days, and I didn't want to store all my stuff and just let it rot. Now it happened that a friend of a friend, named Andrew Goldring, had a studio and was going out of business. So one afternoon – I was actually on the road with Paramore at the time – I called him and told him that I'd pay half his mortgage if he'd let me store my gear at his studio and work there on my own records. That was just a few years back, and since then, we've had tons of business here at the SOUNDCAVE studio. I made my last solo record here, he made all his records here, and we've also got a lot of indie artists and singer-songwriters.
[LEWITT] So this all started because you were looking for a place to store your gear. Speaking of which: What's your favorite gear?
Right now, I'm about to order a console – the Toft ATB – but I haven't yet decided on how many channels. You know, I've been in so many studios over the last 15 years, and I've used the U87's, 251's, played with the $ 20,000 microphones, and that always kinda revolves … but the newest thing I've got in my mic locker is the LCT 550 large-diaphragm condenser mic, and it's so incredibly versatile – it's kind of the Swiss army knife of condenser microphones. Over the past few years, a lot of mics have claimed to be the kind of condenser mic you can stick on everything, but the LCT 550 in particular is very interesting because of how quiet it is. It's virtually noiseless, and that's a thing I really haven't been able to find in a condenser mic before. I can use it as a mono room mic and smash it to death with a compressor, and I've used it on vocals as well as on guitar cabinets. But my favorite thing about it is its user interface right on the front, which makes it easy to use the three low-cuts as well as the three attenuation settings – which I use a lot. You can really push your pre-amps with this microphone, and it still remains essentially silent, which I think is the most impressive thing – plus, its sound is super detailed. And the reason I said that it's the Swiss army knife of condensers is that you can really get clarity out of any instrument with it. The other day, I used the LCT 550 to do a really quiet, brushed, jazzy type of drum take, and you can really hear the nuances of the brush. It's great on soft vocals, too. I haven't tried it on a more aggressive kind of vocals yet, and I'm interested to see how it will translate there … I think it'll do great!
[LEWITT] You recently toured with UnderOath; what mics did you use on tour?
I used the MTP 550 DM for vocals, and I have to say that it's a great microphone with low handling noise. When I'm on tour with UnderOath, I'm playing drums and singing at the same time … so my MTP 550 DM is really heavily compressed, because I need to get the loud, yelling vocals as well as the soft vocals while I've also got the big cymbals bleeding in there. So the ability to gain it up really high before you get feedback is essential when you use high compression ratios like that. And I think it's great how the guys at LEWITT have engineered their microphones so that they really shoot clarity through a whole mix, whether it's in the studio or onstage.
[LEWITT] Are there any other LEWITT microphones that you're using?
On my snare top, I'm using a MTP 440 DM, a highly versatile dynamic instrument mic that's way better than the SM 57, since the MTP 440 DM sounds richer and more detailed. For me, when it comes to snare drum in a studio setting, I really want to capture the body and the bite of my snare. And that's exactly what the MTP 440 DM delivers, so it sounds great!
[LEWITT] Any final comments you'd like to make about LEWITT?
I love my LEWITT mics, and I want to try the whole range! These mics are really well engineered and really well made. And I can't say enough about their clarity, especially with the kind of revolution we're seeing right now: I mean, back in the nineties, things sounded massive and compressed, whereas these days you can find all kinds of different approaches in the recording world – and one of them is to let your instruments sound like you really hear them in the room. The LEWITT mics just excel here because they sound so clear and uncolored.
---