Blog
True love for great sound unites us. 
Kenny Aronoff interview
The list of artists he's worked with reads like a who's who of the music industry: Paul McCartney, Lady Gaga, Pharell Williams, and many others.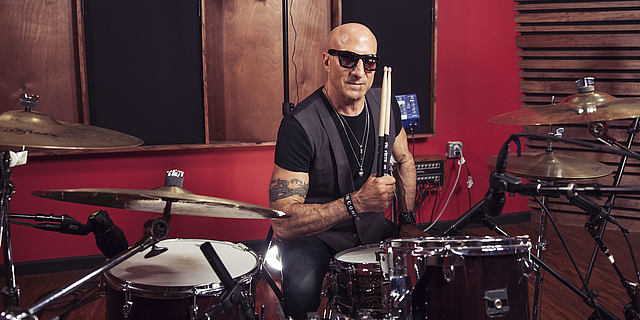 Kenny Aronoff is one of the world's most influential and in-demand drummers and percussionists. Rolling Stone, in fact, cited him as one of the "100 Greatest Drummers of All Time" and Modern Drummer has named him #1 Pop/Rock Drummer and #1 Studio Drummer for five years.
About Kenny's drumming style.
With a style of playing that combines power and finesse, his unique and versatile sound has been instrumental on over 60 Grammy-nominated or awarded recordings representing over 300 million in sales, with more than 1300 that were RIAA certified Gold, Platinum or Diamond.
That list is more than impressive.
The list of artists he's worked with reads like a who's who of the music industry and includes The Rolling Stones, The Smashing Pumpkins, Paul McCartney, Ringo Starr, Sting, Lady Gaga, Bruno Mars, Pharell Williams, Lenny Kravitz, Kid Rock, Bob Dylan, John Fogerty, Jon Bon Jovi, Elton John, Rod Stewart, Slash, Eric Clapton, Dave Grohl, Jack White, Garth Brooks, Alanis Morissette, Johnny Cash, Avril Lavigne, Joe Cocker, B. B. King, Stevie Wonder, Alicia Keys, John Legend, Beyonce, Mick Jagger, Ray Charles, Alice Cooper, Tony Iommi, Meat Loaf, Santana, Crosby, Stills & Nash, Celine Dion, and many others. 
How Kenny become one of the top drummers.
As a ten-year-old growing up in Massachusetts, Kenny joined his first band after seeing The Beatles on the Ed Sullivan show. The self-taught drummer continued playing in local bands throughout junior high and high school.
At 16, he decided to focus on classical music and began to study seriously with members of the Boston Symphony Orchestra, including world-renowned timpanist Vic Firth. He went on to study at the University of Massachusetts and at Indiana University, where, among other honors, he was awarded the school's prestigious Performer's Certificate.
During summer breaks, he played in the symphony orchestras at the Aspen Music Festival (run by The Juilliard School Of Music) and the Tanglewood Music Festival (run by the Boston Symphony Orchestra).
Kenny has his own studio, Uncommon Studios LA in North Hollywood, CA, where he records drums for artists and bands. Author is the most recent addition to his long line of credits with his new book, Sex, Drums, Rock 'n' Roll! The Hardest Hitting Man in Show Business (Backbeat Books, November 15, 2016). 
At our huge LEWITT microphone shootout, we had a chance to talk with Kenny about his experiences with LEWITT microphones.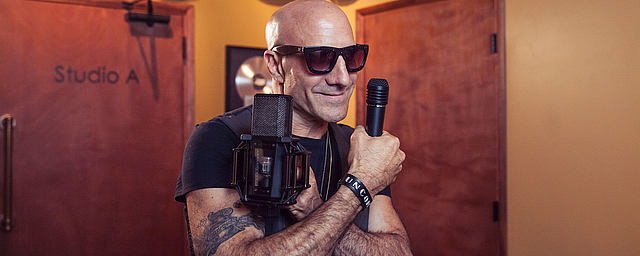 [LEWITT] Tell us a bit about your experiences at the microphone shootout.
[Kenny Aronoff] Today I tested many, many different types of mics and just A/B the different sounds of each mic – and if you listen to me play, you can hear how each mic sounds different. I think it's a brilliant way to A/B mics, because you don't have to keep switching them – we've done all the work for you! It's a very, very quick way to go back and forth between the different models.
[LEWITT] What's your favorite microphone?
[Kenny Aronoff] I've been using the MTP 440 DM on my snare – both in the studio and live. And John Fogerty is extremely anal about my drum sound – we do like a 30-minute sound check every show when we're on tour. Someone gave him an MTP 440 DM, and he instantly fell in love – he's very excited about it, and it's his favorite mic on the snare drum right now! In the studio, the engineers love it – so it's really my favorite mic, too!
[LEWITT] Which microphone stood out for you at the shootout?
[Kenny Aronoff] When we tested out some overhead mics, I was blown away by the LCT 940. It's can function as a pure tube mic or a pure solid-state mic, and then there's this ability to kind of graduate between many different positions. So it can also do 75% tube and 25% solid-state (which they call FET). And that's what's so brilliant about it. You can dial it right in, and I'm excited to try it out in my studio as my overhead mic.
I think LEWITT definitely has a very innovative paradigm going, and they've carved out a special niche for themselves in the recording business!
Links
---