Blog
True love for great sound unites us.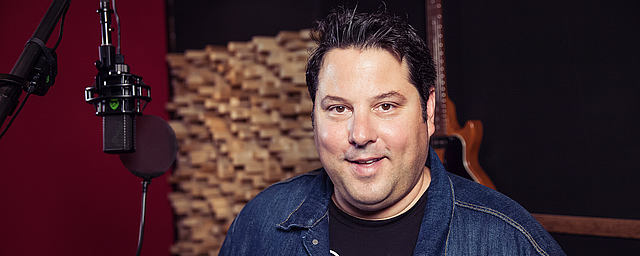 Gregory Phillip Grunberg is an American television and film actor. He's best known for starring as Matt Parkman in the NBC television series Heroes and as "Snap" Wexley in Star Wars: The Force Awakens.
Greg currently co-hosts the AMC late-night talk show Geeking Out with Kevin Smith. They provide a current look at pop culture through a fanboy lens and feature celebrity interviews, discussions, and segments outside the typical studio setting.
Since his son Jake has epilepsy, Greg takes an active role in raising awareness of this neurological disorder. By starting the website talkaboutit.org, he's been able to open up a conversation about epilepsy and how to help those who suffer from seizures. And in his voiceover for the LEWITT microphone shootout, he continued spreading the message.
After the shootout, Greg gave us some feedback on his favorite LEWITT mic – the DGT 650 USB microphone and interface:
"I love the DGT 650. I do voiceover work as well as acting, you know, and that means I do a lot of narration – mainly when I audition for things. The narration and voiceover business is very competitive, so you've got to use the best equipment you can. Your mic can make a huge difference, which is something I've noticed especially with the DGT 650. It's a very sensitive and well-built mic. I've been using USB mics that I can plug into my phone or my computer for a while now … and while it's nice to have the convenience and everything, the mic I used before just didn't get the richness and tone of my voice. You want to have that bottom, and you also want to have the top and the crispness. I now use my DGT 650 on a regular basis and it just bombs me up, because it's a very high-end professional mic. So when I send my voiceover audition in, I'm 10,000 times ahead of the rest just because it sounds so much better. I can plug it into my computer and it works great, but it can also be plugged into your iPhone – and with LEWITT's recording app, it's really, really simple … it's exactly what you want."
Links
---