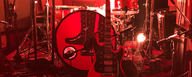 Interview: Saint Agnes
On the recording process of their album
Saint Agnes is a four-piece rock band formed in East London in 2014 after Jon James Tufnell and Kitty Arabella Austen discovered a shared musical belief in the power of rock and roll.
Ben Chernett and Andy Head joined the two later and a string of singles followed over the years before the band released the Death or Glory Gang EP in 2018. This year, Saint Agnes released their much-anticipated debut LP Welcome to Silvertown.
Self-produced, and engineered by Luke Oldfield (The Wytches, Uncle Acid & The Deadbeats), Saint Agnes' debut album fuses menacing, frenzied rock with dark cinematic flare.
We met the band after a live recording session at Metropolis Studios and talked with them about the recording process of their album, and the idea of doing a mixing contest with a live performance of their single Move Like A Ghost.
[LEWITT] Please tell us about the recording process of your album?
[Kitty] We recorded our album at a place called the Tilehouse Studios outside of London which was originally built for Mike Oldfield in 1981. His son Luke is the engineer there and we booked the studio for 10 days, where we recorded and mixed the entire album.
We recorded to tape, which was quite important to us because if you're recording straight into a computer you have a lot of options all the time. You can have a thousand different guitar sounds, a thousand different vocal sounds and for us, we're so indecisive, if we would have had all these options, we would definitely have used them. So we decided to record on tape to cut off all the options. We recorded every song in a couple of takes and then we decided, which take we're going to use on the album.
And it was really fun actually, taking away the stress of having to decide a thousand different things. When we played it that time, it felt very good, it sounds very good – there might be a few mistakes in it, but we can live with those because the rest of it is really vibey. Recording on tape was really exciting because I haven't done it before.
Listen here to the single Welcome To Silvertown named after their debut album
[LEWITT] Did something unexpected happen when you recorded the album?
[Jon] Yes, when we recorded, the tape machine broke about halfway through and it broke in such a way that it meant we could record, but we could not rewind. The only way to rewind it was to take the tape off, flip it over and fast sort it, which was a process that took 20 minutes.
So we decided that we would record on tape to limit ourselves and make things kind of difficult, and it became incredibly difficult and incredibly slow. But this was the reality, this was what we've chosen and this kind of things can happen.
There were only a few people in the country that could fix this machine and we had to wait for them to arrive. Until then we had to make this work because money will not appear out of nowhere. So the next time we're doing a take, we had to do it right.
I think Witching Hour was the first song we recorded post-machine-breaking and that came about as a one-take song and we where like, that's fine, it is what it is, let's just roll with it.
I think for us as a band it was incredibly important to embrace who we were that day and kick against that idea of endless options and possibilities to fix things. We are who we are: We know we can play these songs live and just let's not overthink it – it was great!
Listen here to Witching Hour by Saint Agnes