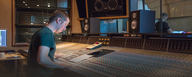 How to prepare for a recording studio session
4 easy tips for musicians by Metropolis Studios sound engineer Alex Robinson
You're a musician or a band, you've written your first Single, EP or Album and you're getting ready to hit the studio?
Metropolis Studio's head engineer Alex Robinson gives 4 essential tips that every musician should know.
Make it about you.
A lot of young up and coming artists that come to us for the first time are a bit nervous. It's a big studio with big recording rooms, and quite often they're working with renowned producers or artists heading up the projects. 
That can put a lot of pressure on the young artist. Especially with a recording room of this size. You're going to the vocal booth and feel like you're on display for everyone – and that's not easy. 
When you go into the studio to record, especially when you're a vocalist and in the main focus, my main advice is to remind yourself that everyone is here to help you and to help to get the best performance out of you. Don't forget that!
The engineers and the assistants are here to put you in the best possible position to succeed!
In terms of making yourself comfortable in the booth, if you feel like you're on display go and turn stuff around you so that you're not facing everyone. Make it about you – if you want the lights down a bit or if your headphone mix isn't quite right don't be afraid to ask for stuff to make sure that you're feeling as comfortable as possible and have the best chance to get the best performance and delivering the best takes.   
Links
---
More stories