Blog
True love for great sound unites us.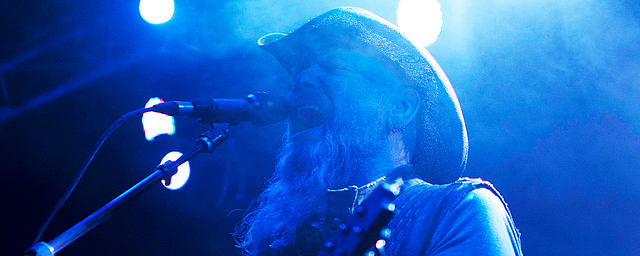 Jason Charles Miller is an American singer-songwriter known for his solo albums as well as for being the lead vocalist and guitarist of the industrial rock band Godhead , the only band ever signed to Marilyn Manson's Posthuman Records. With over 250,000 records sold, he's now a dark southern rock solo artist, an accomplished songwriter, and a music producer. What's more, Jason's contributed as a voice actor to over 100 animated productions, dozens of video games, and 8 live action movies. Some career highlights include Avatar: The Last Airbender, Batman: The Brave and the Bold, World of Warcraft, and Resident Evil 5, and you can also see him onscreen as Strike Leader Jackson in the SyFy original movie Battle Planet.
[LEWITT] What's going on right now in your music career?
[Jason Charles Miller] I'm just finishing up my new album, which is coming out in the first quarter of 2018 and being produced by the Grammy-winning producer Matt Hyde (Deftones, Slayer, No Doubt) for Century Media Records, which is now part of Sony. And I've been doing what you might call primer shows, getting ready for a lot of touring next year once the album's out. I'm also doing a ton of songwriting for other artists, TV placements, and some things on the web … and generally just trying to stay as busy as possible.
[LEWITT] In your live shows, you've been using the MTP 350 CM. How have your experiences with that mic been so far?
[Jason Charles Miller] I've been using the MTP 350 CM for a few weeks now, and I'm actually ecstatic about it. I've used it in a bar settings, in club settings, and last weekend I used it in a big outdoor festival setting. It's been performing great, and I've constantly been getting compliments from the soundmen. I've been able to hear it cut through on the monitors like no other mic I've ever used before, and I really just wouldn't want to play a show without it anymore! I really feel like I've finally found THE mic for live settings, one that fits me perfectly. You know, it's always hard to tell whether the mix is good or not when you're up on the stage. You're relying upon the soundman for the mix. I mean, your monitor mix on stage could be perfect for you, but you don't know what the crowd is hearing – and ever since I started using the MTP 350 CM, I've been reminding myself to kind of ask people who know our sound if they noticed any differences. They've been giving me really great feedback on how clearly they can hear the vocals, and of course, that's what you want from a vocal microphone.
[LEWITT] You mentioned soundmen: What kind of feedback about the mic have you gotten from your FOH engineers?
[Jason Charles Miller] They like how it cuts through, and they like how they don't have add much EQ at all to get my vocals where they want them to be. Right now, because I'm not on any long-term tour, I don't have a permanent soundman, so I've been using the venues' soundmen – which is better, since you get different opinions from different people in different venue sizes … and it's kind of really surprising just how great it's been responding in all these different scenarios.
Jason Charles Miller performs "Riverbank" with the MTP 350 CM
[LEWITT] Are there any final comments you'd like to make?
[Jason Charles Miller] If you're in a situation like mine – I mean, if you're not on a big tour and you're on a budget and can't afford a full crew – or even if you're on tour but relying on your venues' soundmen, the MTP 350 CM will give you peace of mind: you know it's gonna do the job you need it to do regardless of who's sitting behind the mixing board. I think that's really important, especially for what I call "middle-class musicians" – which is the category I'd put myself in: I'm a working musician and I tour, but I don't have a 60-person crew … sometimes I have a crew of one or even none. That means you're relying more on the people who work at whatever venue you're playing, and I think the MTP 350 CM will definitely help you achieve your sound goals without the soundmen having to do a lot of work.
Links
---