Blog
True love for great sound unites us. 
Review DGT 650
Guitarist, songwriter and producer Michael Elsner tested the DGT 650 extensively in practice and published his comprehensive review in Collectible Guitar magazine.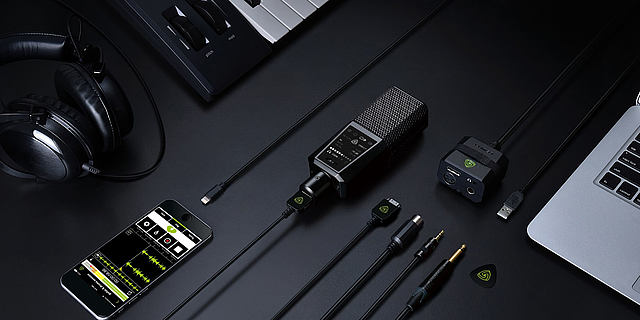 Michael Elsner tested the DGT 650 extensively in practice and published his review in Collectible Guitar magazine. 
Michael Elsner is a guitarist/ songwriter/producer whose written for shows including American Idol, Amish Mafia, EXTRA, The Sing Off, and So You Think You Can Dance among many others.
Summary: "LEWITT calls the DGT 650 'The Mobile Recording Studio,' and that's precisely what it is. I've been able to put this microphone through its paces in a variety of situations, each with very successful results.
I've used it in XY stereo mode to re- cord everything from Podcast style audio, full band rehearsals and concerts (employing the various pads to prevent any kind of signal overload), as well as direct to YouTube performance videos with an artist I'm working with named Adam Searan. Adam and I have also used Cardioid Mode to great effect in my studio to record some of his vocals. Out on the road I've used singer/song- writer mode when writing ideas in the back lounge of the bus, and Stereo Line In mode to record a board feed from the live mixing console."
Conclusion: "Personally, I'm all about practicality. It's fun to discover and play with new gear, but when the rubber meets the road I ask myself, "Is this something I'm actually going to use?" In this case, the answer is a resounding, "Yes!", and let me wrap up with a quick story to emphasize this point.
I work with a number of composers quite regularly, but I also spend a few days a week out on the road with a modern country artist. While traveling recently, I received a frantic call to track acoustic guitars on a dozen or so cues. The pieces needed to be completed within a few hours as they were going straight to the mix engineer that night and onto the show the next morning. All I needed was my ProTools equipped laptop, the DGT 650, and my acoustic guitar. I found a quiet room at the venue, imported the files that were sent to me into my session, setup the DGT 650, and went to work. I turned the tracks in and promptly received a very happy and relieved phone call from the composer.
This setup allows me to travel with minimal gear and still attain a high quality recording that rivals the quality of gear I have in my studio's signal chain. I've gotta hand it to the guys at LEWITT for leaving no stone unturned in the design of this unit and creating a very 'complete' recording package."
If you want to read the full review please download the PDF.
Links
---
---