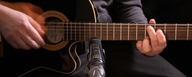 The best microphones to record acoustic guitar
Our recommendations
Recording acoustic guitars is a challenge in itself. You want to capture the natural sound of your instrument while also catching the expressive playing from your performer for your recording.
You can overcome every challenge with the right tools.
In this article, we'll cover which LEWITT microphones are best for recording acoustic guitars. If you're looking for a new mic, take 5 minutes and let us help you.
If you're new to miking up an acoustic, check out our blog "How to record acoustic guitars"
Different styles need different mics
Acoustic guitars have a distinct and natural sound. You can use them in lots of different ways: there are nylon strings, there are western strings, there is fingerpicking, there is playing with a pick, and on and on it goes.
The acoustic guitar is a very versatile instrument. With some styles, you'll have fast attack times. On some ballads, you'll need the acoustic to be the slow and emotional centerpiece of your song, so it will have to sound larger than life.
You are going to need different microphones for different use-cases. So, let's get started.
---
More stories