Blog
True love for great sound unites us. 
The Blue Trees interview
The Blue Trees™  is a Southern Americana Groove Rock band that blends rock, pop, alternative, funk, and electronic elements.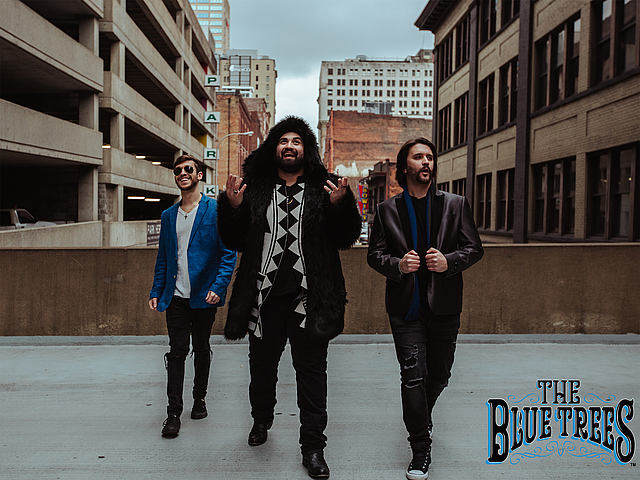 The Blue Trees™  is a Southern Americana Groove Rock band out of Birmingham, Alabama that's now based in Nashville, Tennessee. Formed by Jacob Needham and James Cody, The Blue Trees have developed a signature style that blends rock, pop, alternative, funk, and electronic elements. Their debut album Procrastinated Memoirs, eagerly awaited by their huge fan base, will be released this year.
[LEWITT] Let's start by having you tell us about your band and about the recording process for your new album…
[Jacob Needham] The band was formed about two years ago by me and James Cody, and then we added Ben Trexel on bass and RaShaun Whetstone on drums. Right now we're working on the release of our newest album Procrastinated Memoirs, and the LEWITT microphones have been important tools in recording the album. The LCT 550 and the LCT 640 have been awesome mics for vocals, and we've also used them for micing guitar and all kinds of other stuff.
[Ben Trexel] James and I are guitar players, and we've been producers for a decade, so we've worked with a lot of different artists – but this band is our pet project. The fact that we'd had a lot of experience in the studio before we started working on it allowed us to really hone in on our sound; we've since spent literally thousands of hours working on our record, and we're not looking at the clock. We could have put it out a year ago, but we decided not to because we were just in a really creative mode. We've written an entirely new album since then, and we feel that it's ready for the marketplace, now. So that's sort of where we are at the moment. We are going to present ourselves to the major labels and things like that, but – you know – the Beatles and Elvis got turned down, and we might get turned down as well … even if we do, we're still very confident, so we'll be moving forward with this project no matter what.
[James Cody] Basically what I noticed, especially with this new album where we have a lot of acoustic-type instrumentations in our songs, is that getting a good acoustic sound is not the easiest thing in the world. That's no secret. But I found that using the LCT 640 on my Martin guitar sounds just incredible in conjunction with the line-in. I just can't express enough how it's going to be hard to ever want to use any other mic but the LEWITT for doing acoustics, guitar specifically, so I'm very grateful for that. But everything we've been doing in the last year has been just an awesome experience. We came up with Procrastinated Memoirs as a title for our album because it makes total sense – you know, with procrastination being a good thing because the material we've written deserved to be procrastinated on.
[Jacob Needham] About delays in releasing something: if it's a piece of art, music, or just going after a dream, you can turn that into a kind of memoir, something that will be etched and sketched into your heart and mind, something you can hold on to. And you can say to yourself: "Man, I'm so proud I did this." So it's sometimes good to procrastinate, like James said, because to get that perfect sound or that perfect song, sometimes you have to step back a little bit and look at it.
[LEWITT] That's an interesting title and concept. You mentioned your LCT 640 and said that you liked a lot how it made your acoustic guitar sound. Did you use the mic in cardioid mode, or in one of the other polar patterns?
[James Cody] I used it mainly in cardioid mode and really didn't have to do much EQ-ing, because that mic captures everything natural about the guitar. It's just magic.
[Jacob Needham] We recorded all our vocals between the LCT 550 and the LCT 640, and in my opinion, there's no other mic out there that can be compared to their sound and the clearness and the crispness we get when we use these LEWITT mics for vocals. It's spectacular.
[Ben Trexler] Yeah, they both sound fantastic! I'm running them through the Focusrite ISA One, which is not a very expensive preamp, but it just happens to blend very well with those microphones and requires very little EQ since we get a very natural and transparent sound right out of the bag.
[LEWITT] You guys have mentioned that you did the engineering and production of the album yourselves. Can you tell us some more about that?
[Ben Trexel] All of us are involved in the engineering. Sometimes we go to a larger studio to capture the drums; in that case we let the engineer do his thing, of course. And afterwards, when we come back to our place, we mix everything.
[Jacob Needham] When you called, we'd just been working in the studio … we're truly a self-made band. We do literally everything from mixing to production to recording to songwriting…
[LEWITT] Anything else you'd like to say about LEWITT?
[James Cody] We're just very happy to be on board with LEWITT, and from day one since getting these microphones, we haven't had a single issue with them. They speak for themselves, and when I hear the name LEWITT, "microphone to the ultimate" is what comes to my mind.
[Ben Trexel] They're absolutely worth three times the price!
[Jacob Needham] Fantastic microphones! We would not have the sound we got on our record without the LEWITT mics.
Links
---