Blog
True love for great sound unites us.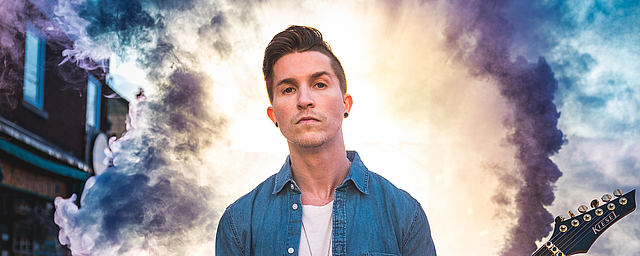 Cole Rolland is a professional guitarist and music producer. Over the years, Cole has garnered a tremendous online following of more than 800,000 YouTube subscribers and 100,000,000 video views. His top-notch video and audio production skills along with his professional branding knowledge have made him a truly reputable artist both online and in a live setting.
Cole has shared the stage with major acts such as Illenium, Adventure Club, Krewella and Ookay. His unique approach towards bringing a 'live instrument' aspect to electronic music has received recognition from top artists in the scene.
[LEWITT] You have over 499,000 YouTube subscribers. How did that come about?
[Cole Rolland] I was about ten, when I first picked the guitar up, and I made my first video online when I was fourteen. I'm twenty-four now. I posted it after I turned fifteen, and then I didn't post again until probably two years later. It was funny, because I posted that first video, which was a cover of Through The Fire And Flames by DragonForce. It was just a really hard song on "Guitar Hero" at the time, and everyone was searching that song. I remember a guy in my high school coming up to me, being like: "Hey man, have you checked that video you posted up? It's got 100,000 views!" That's in 2009. And I went: "What? That's insane!" I didn't even believe it. That's when I started to gain some more momentum. I started covering songs that my friends would listen to at parties, like Eminem's "Recovery" album, which was very hot at that time, Rihanna was putting out a lot of really big tracks, so it was fun to do songs like that. My friends would just keep requesting songs that were hot at the time. That's how it got started.
[LEWITT] You've also received multiple shout-outs and a lot of recognition from major artists who have heard your channel, including Zedd, The Chainsmokers, Alan Walker,  Illenium, Krewella. How did that feel for you, to have these people give you a shout-out?
[Cole Rolland] That's been crazy! Some of them, I've actually ended up playing live shows with, and there will be some coming up in the future. I'm really trying to break into that. But that has always been something that never gets old. I still freak out every time, like the first time it happened. It still feels the same way. Thinking that someone that has worked so hard to build their own brand and their own business around their music, as gone out of their way to share something that you made. That is just an incredible feeling. When I put out my latest single last month, I actually had a lot of people covering it. And I made sure that I shared every single one that people were doing. I think it really encourages people to cover your music too, and it's like rea ally cool feeling.
[LEWITT] What gear are you using to record your YouTube videos?
[Cole Rolland] Guitar-wise, I'm an endorser of Fractal Audio Systems and Kiesel Guitars. I do all of my guitars direct-in for electric, I don't run an amp or anything, and on acoustic guitars, I use my LEWITT LCT 540 S microphone. I also use that for tracking vocals. I'm not personally a singer, but when I do have a vocalist in the studio, I always get people to try that mic out. Everyone loves it, and It's extremely versatile. I use a Focusrite Scarlett 18i8 preamp for that microphone.
[LEWITT] So when you're using your LCT 540 S, what kind of comments do you get from people?
[Cole Rolland] My favorite remarks about it are when I have a vocalist in here, and they haven't heard of LEWITT before. After we're all done and they hear the raw tracks, they go: "This is an incredible microphone! How have I never heard of this brand before?" That is always cool, because there are so many different options that people could pick. It's like buying a Gibson guitar, you know what you're getting, people know about them. But to come into the market with something new, to hear really positive things about LEWITT from people that haven't used it before, I think that is pretty awesome. That's always my favorite thing to hear from people in person.
Watch Cole Rolland's cover of the Paramore song "Decode" feat. Lauren Babic
[LEWITT] Saying it's a good microphone is one thing, but what about the microphone is it that you love, sound-wise?
[Cole Rolland] I would say the warmth of it. It has a really warm, smooth sound and it gives me a really neutral place to work with when I go into post-production. I don't want to have to account for issues with the microphone in post-production and have to counteract those with plugins and trying to polish-up something. I never have to do that at all with LEWITT. It's a very good neutral, clean, and warm sound that I can embellish in post-production, and I'm not trying to fix things. It gives me a really amazing starting ground.
[LEWITT] Are there any final comments that you'd like to make about LEWITT?
[Cole Rolland] I'd say that I'm looking forward to their future. I hope that more people start to hear about them, because they are an incredible brand. They're incredible people. I recommend it all the time when I have people asking me about production gear, that means a lot. There are tons and tons of other brands that I could be directing people to, but I'm very passionate about the gear that I use, and I strongly stand behind them.
Links
---